eBay Stock Price off Its 2021 Highs, Investors Await Q2 2021 Earnings
eBay investors await the Q2 2021 results. The market expects EPS of $0.96 for the quarter, and it has beaten estimates for the past four consecutive quarters.
eBay is about to release its Q2 2021 earnings later today. eBay stock price is up over 30% year-to-date, and the market estimates that the company has earned $0.96/share, down 11.53% compared to the same period last year.

eBay is a company known for connecting buyers and sellers worldwide. Effectively, it is a marketplace where people list, buy, and sell various items. Founded in 1995, eBay quickly became popular around the world.
Nowadays, it employs over 12,700 people and is listed on Nasdaq under the ticker EBAY. The yearly revenue growth of 33.68% is bigger than the 12.7% sector median, and the eBay stock trades at a price/sales ratio of 4.05 TTM (trailing 12 months), more than three times higher than the sector median.
No Analysts Have a Sell Rating
Fifty-eight analysts cover the eBay stock price, and none has issued a sell rating. The opinions are split almost evenly between buy and neutral ratings, with 30 analysts having buy ratings and 28 neutral ones. Most recently, Credit Suisse has maintained its buy rating with a target of $80.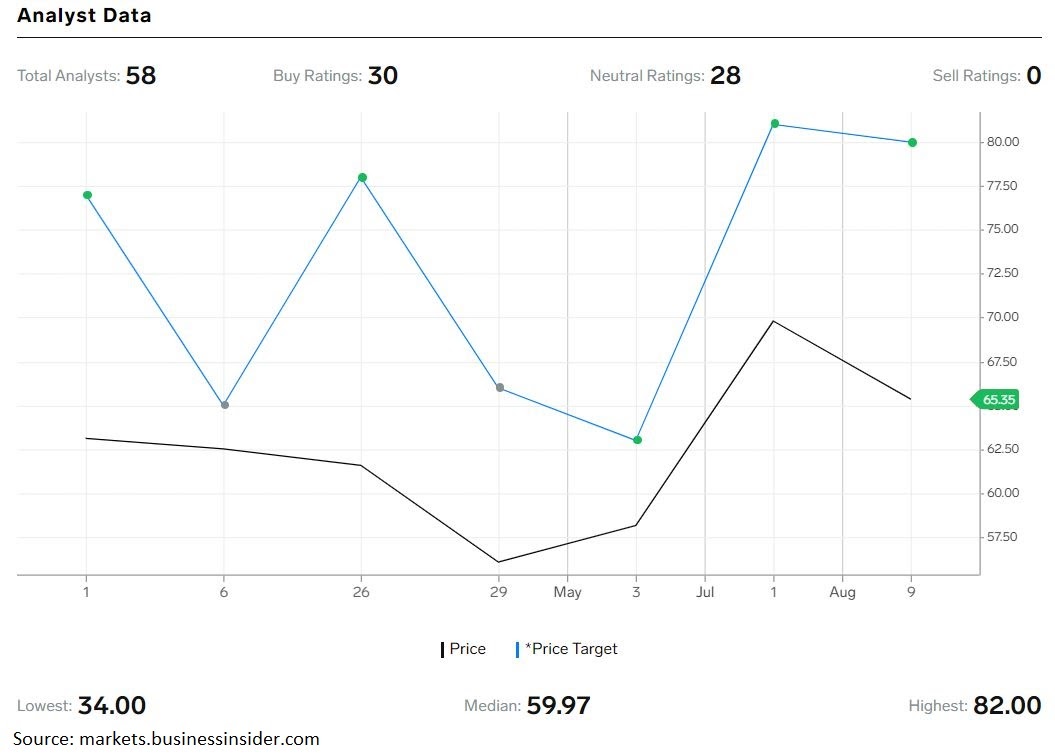 Just like most of the companies in the US tech sector, eBay has made a new all-time high during the pandemic. However, while the Nasdaq 100 index still sits close to its record levels, eBay share price corrected in 2021, trading well off its highs.
Recently, the company has improved its financial position by selling an 80% stake in the Korean business to Emart for approximately $3 billion and part of Adevinta stake to Permira for another $2.25 billion.