Dow Jones price forecast: Santa Rally expected
Dow Jones investors bought the recent dip, and now the index is preparing for a new test at all-time high levels. The FOMC December meeting scheduled for next week looms large.
One week ahead of the FOMC December meeting, the Dow Jones index is back threatening the all-time highs. Investors bought the recent move into the 34,000 area aggressively, and now the price action has found resistance in the 36,000 area.
The move lower was driven by fears that a new COVID-19 variant, Omicron, would ruin all the progress made so far during the pandemic. However, investors have learned that more data is needed, and, as time passed, new data reveals that vaccines offer important protection against this variant too.
As such, the stock market bounced, and the Dow Jones is back trading above 35,000. Even more interesting is that liquidity is shrinking in the weeks ahead as the December holidays get closer. Therefore, next week's FOMC meeting looms large for equity traders, as the Fed's message will center around inflation.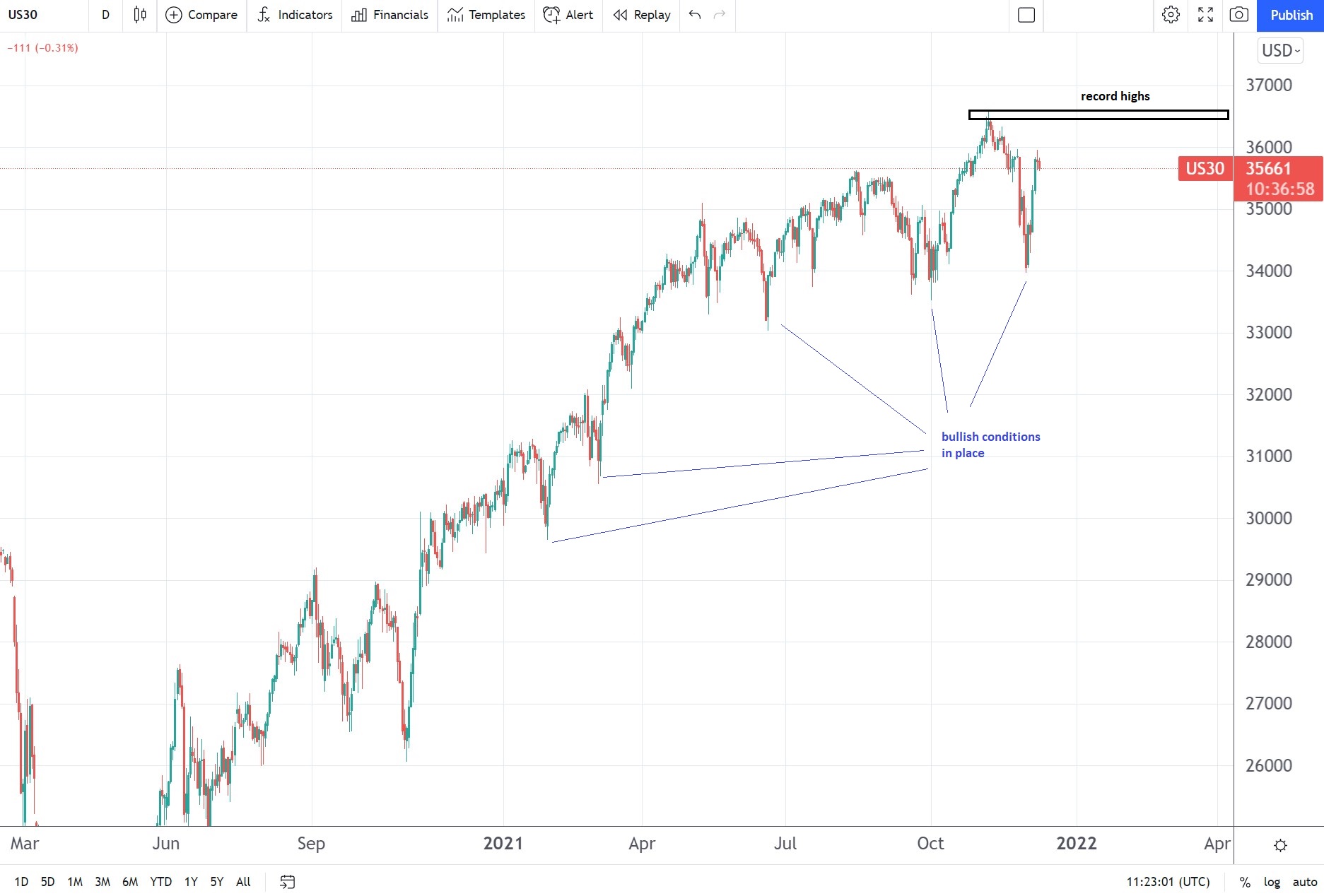 Fed expected to deliver one rate hike per quarter starting June 2022
The Fed's Chair Jerome Powell took the market by surprise during his recent testimony in front of the House and Senate. He expressed the Fed's concerns about inflation, and the market immediately priced in more rate hikes in the years ahead.
As such, the first rate hike is expected immediately after the Fed's tapering of its asset purchases ends in June 2022. The first rate hike may be delivered even earlier should the Fed accelerate the tapering. In any case, the market expects one rate hike per quarter between June 2022 and mid-2023.
The technical picture looks bullish
The Dow Jones index's technical picture remains bullish despite the Fed's hawkishness, which is typically bearish stocks. The recent move lower failed to break the higher lows series, so the bullish conditions are still in place.
Considering that December typically delivers positive returns and that the end of the year holidays are next, the bias is that the Dow Jones prepares for the Santa Rally and a new attempt at record-high levels is possible. If the Dow remains close to the highs after next week's FOMC meeting, new all-time highs are not only possible but extremely likely.