Dollar index price prediction after the Fed doubled the tapering pace
The dollar index ended the trading week closed to its highs after the Federal Reserve of the United States (Fed) doubled the tapering pace and sent a hawkish message this week. In contrast, the European Central Bank (ECB) delivered a dovish statement. What will the dollar index do in 2022?
The most important trading week of December is behind us as five major central banks have delivered their monetary policy decisions – the Federal Reserve of the United States, the European Central Bank, the Bank of England, the Swiss National Bank, and the Bank of Japan.
Out of the five central banks, two turned out to be more hawkish than the market expected – the Fed and the Bank of England. The latter even delivered a rate hike, surprising market participants.
Traders monitoring the dollar's fluctuation know that the dollar index is the most relevant metric to measure the strength of the world's reserve currency. The index is made of a basket of foreign currencies having different weights. More precisely, it is a weighted geometric mean of the dollar's value relative to the currencies in the basket. Here are the currencies and the weights: EUR (57.6%), JPY (13.6%), GBP (11.9%), CAD (9.1%), SEK (4.2%), CHF (3.6%).
In other words, we may say that the first three currencies are responsible for most of the dollar index's fluctuation – especially the common currency, the euro, as it makes up almost 60% of the index. This is precisely why the index is at the yearly highs, as the EUR/USD exchange rate ended the trading week close to its yearly lows.
Is it safe to assume that the dollar index's strength will continue in 2022?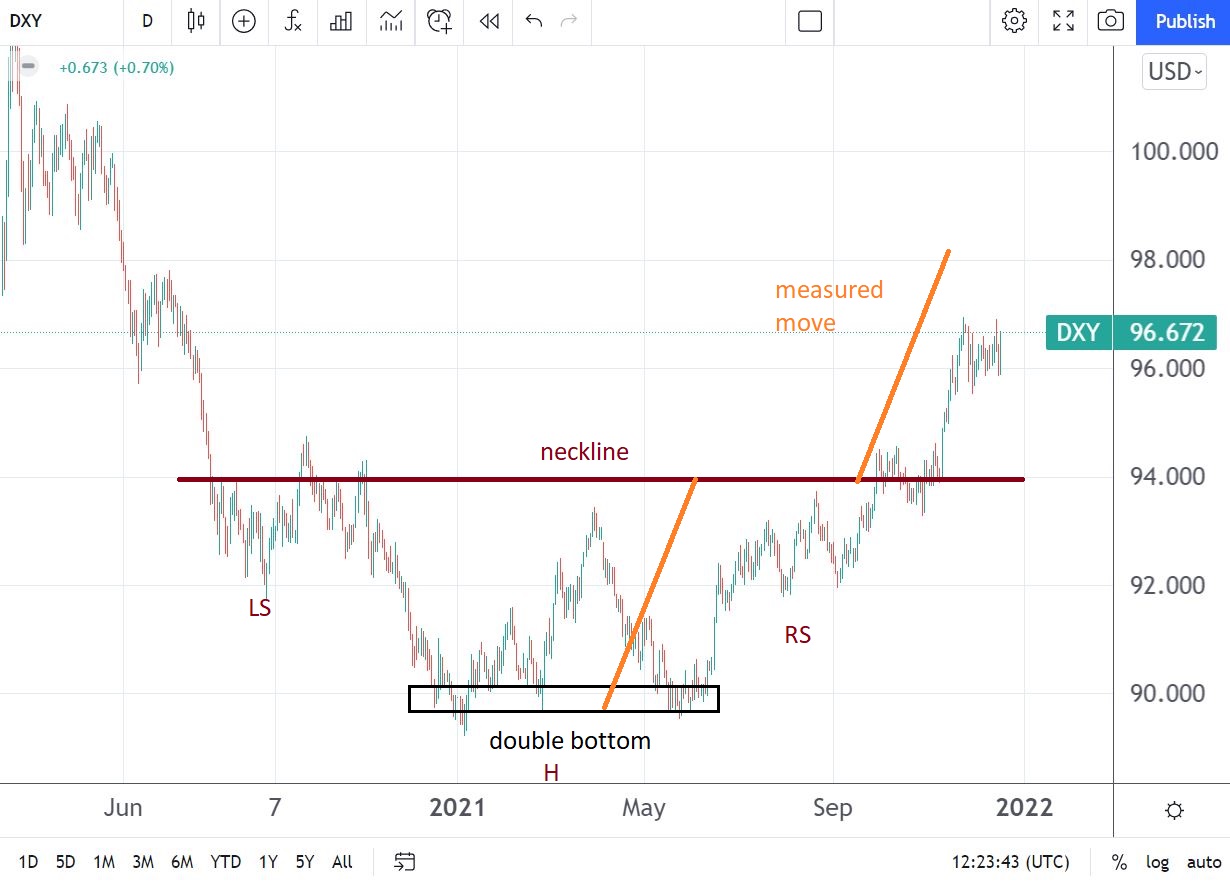 Bullish technical picture calls for a move to 98
In hindsight, the dollar's strength is hardly a surprise. Two bullish patterns hinted at the dollar's strength – a double bottom and an inverse head and shoulders pattern. The measured move for the two suggests more strength ahead, with 98 the obvious target.
The Fed and the ECB have divergent monetary policies
Leaving the technical picture aside, the fundamental one also favors more dollar strength ahead. The two central banks' monetary policies diverge – the Fed doubled the pace of tapering its asset purchases while the ECB vowed to not raise rates in 2022. Hence, the path of least resistance for the US dollar in the first months of the new year is higher, with 98 the logical target.