DocuSign Stock Price Jumps after Q2 FY2022 Earnings
DocuSign announced its Q2 FY2022 earnings at the start of the trading month and the share price regained the $300 level on better than expected results. The company's total revenue exceeded $500 million.
DocuSign stock price is in a bullish run after the company reported better than expected earnings. At the end of last week, the company reported EPS of $0.47, beating the market's expectations of $0.40.
The share price regained the $300 level after the company reported an increase in total revenue of 50% year-over-year. Billings were $595.4 million, up over 45% compared to the same period last year.
This is the fourth time in a row when the company beats its quarterly estimates, and the forward guidance is bullish, too. The company expects total revenue and billings to increase further on the back of many new product capabilities.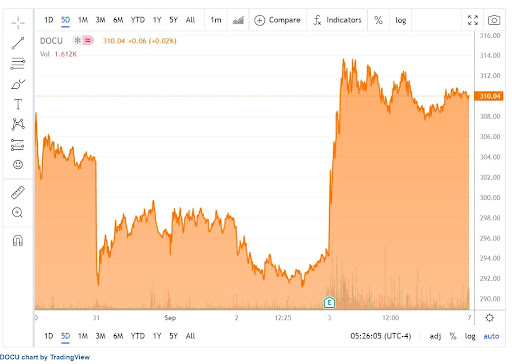 What Do Analysts Say About DocuSign Stock Price?
Analysts are overwhelmingly bullish on the DocuSign stock price. Out of the 55 analysts covering the share price, 41 have issued buy ratings while only 14 have neutral ratings. No analyst has a sell recommendation.
Following the Q2 FY2022 results, Morgan Stanley maintained its buy rating, with a price target for the DocuSign stock price of $350. Also, RBC Capital Markets maintained its buy rating with a target of $345.
DocuSign operates with a gross profit margin of 77.13%, higher than the 49.04% sector median. The share price trades at a price/sales ratio for the last 12 months of 33.06, much higher than the 4.41 sector median. The company does not pay a dividend, and the market expects its earnings for the upcoming quarter to be higher than the same period last year by 108.14%.