Did You See CMC Markets Shares Slide By Nearly 30% Yesterday?
Shares of spread betting and CFD broker CMC Markets (CMCX) shed 30% of their value on Thursday. What does this mean for the company and the recent boom in retail trading?
By any definition of the word "crash", CMC Markets shares crashed on Thursday 2 September when they gapped down by more than 28%. This is what it looked like: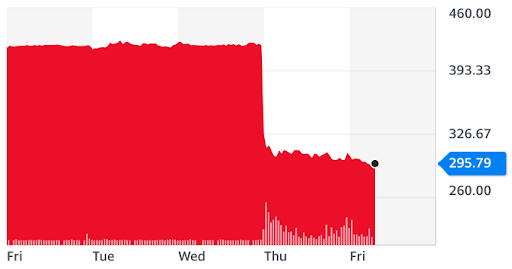 CMC Markets 5-day chart (source: Yahoo! Finance)
Shares of rival broker IG Group Holdings (IGG) also fell, though not as far, which some commentators have interpreted as an indication that the recent retail trading boom — and even the unstoppable bull market — may be coming to an end.
Who Are CMC Markets?
CMC Markets plc provides a platform for clients to trade derivative contracts-for-difference (CFDs) and spread bets on underlying shares, indices, currency pairs, commodities, cryptocurrencies, and ETFs. It was founded in 1989 and has its headquarters in London.
Should You Buy CMC Markets Right Now?
If you're interested in buying stocks "on the dip" then this certainly was a dip, and a big one at that. The question to ask is whether the company's profit forecast fall from £330 million to between £250 million and £280 million is now priced into this stock. On this measure, the 15% to 25% fall in the profit forecast was rewarded with a nearly 30% fall in the share price, which could have been an overreaction.
CMC Markets Price Targets
It's not unreasonable to assume that a 15% to 25% fall in the profit forecast should have been rewarded with a similar fall in the CMC share price. On this basis, the share price should be sitting between 315p-per-share and 357p-per-share.
Where Can You Trade CMC Markets Shares Today?
Most online brokers let you trade CMC Markets shares, such as these best brokers:
eToro
eToro is one of the world's leading multi-asset trading platforms offering some of the lowest commission and fee rates in the industry. It's social copy trading features make it a great choice for those getting started.
Webull
Financial company driven by technology and offering all-in-one self-directed investment platform that provides excellent user experience.