Did El Salvador Cause the Bitcoin 15% Flash Crash?
The Bitcoin price suffered a flash crash on the very day that El Salvador declared the cryptocurrency to be legal tender. Was this cause-and-effect or simply correlation?
On Tuesday 7 September, El Salvador passed the Bitcoin Law that made bitcoins legal tender in the country. On Tuesday 7 September, Bitcoin suffered a "flash crash" that sent its price sinking by up to 15% as shown in the following chart. Was there a connection between the two events or was it a coincidence?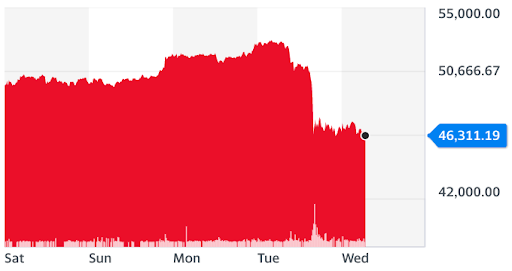 Bitcoin 5-day price chart (source: Yahoo! Finance)
What Is Bitcoin?
Bitcoin arguably needs no introduction as the first and best-known cryptocurrency based on blockchain technology.
Should You Buy Bitcoin Now?
Personally, I'm always a bit skeptical when market commentators ascribe a particular event to a specific cause. I mean, how many times have you read "US jobs data sends shares higher" on the same day that you read "US jobs data sends shares lower"?
On this basis, I ignore that potential cause-and-effect to concentrate solely on the technical picture. The long-term technical picture is best described as "volatile", which means there is money to be made by both buyers and sellers of bitcoins who time it right and put a protective stop order in place in case they get it wrong.
Bitcoin Price Target
The obvious immediate price target would be the most recent peak before the fall, which would be about 52,000. After that, the Bitcoin price could go back up to the all-time high price of more than 63,000 that was achieved in April of this year. On the downside, the price could fall as far as about 32,000 or even farther.
Where Can You Buy Bitcoin Today?
Although you can buy actual bitcoins to hold in a virtual wallet, as a trader you're more likely to simply bet on the rising or falling Bitcoin price via a broker such as one of these:
eToro
eToro is one of the world's leading multi-asset trading platforms offering some of the lowest commission and fee rates in the industry. It's social copy trading features make it a great choice for those getting started.
Webull
Financial company driven by technology and offering all-in-one self-directed investment platform that provides excellent user experience.