Dechra Pharmaceuticals Stock Price at All-Time Highs Ahead of Preliminary Announcement of Results
Dechra Pharmaceuticals (DPH: LSE) stock price remains close to its all-time highs as investors await the yearly preliminary announcement of results. The technical picture remains bullish ahead of the earnings call.
Dechra Pharmaceuticals is one of the largest British companies in the pharmaceuticals industry. It develops and markets veterinary pharmaceuticals and related products locally and internationally and investors await its preliminary announcement of results for FY2021.
Founded in 1997 and headquartered in Northwich, Dechra is scheduled to announce its earnings on September 6th. Investors are optimistic about the company's ability to deliver a positive surprise, as reflected by the sharp rise in the stock price in 2021.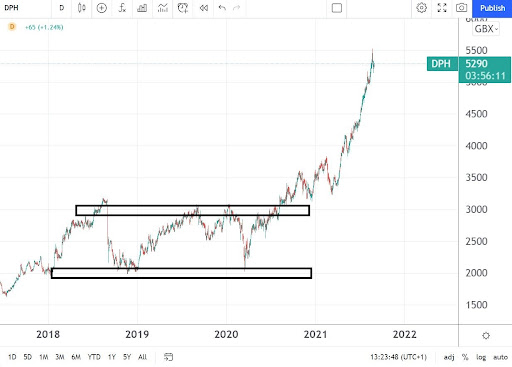 Dechra Pharmaceuticals is a dividend-paying company. In 2020, it reported a dividend of 0.34 GBP/share, higher by 8.51% compared to the previous year. The forecast for the upcoming fiscal year is that the company will increase its dividend by over 13%, to 0.39 GBP/share.
The company reported EPS of 92.19 GBP for the 2020 fiscal year and the market now expects the EPS for the FY 2021 to be 109.53 GBP on an annual revenue slightly higher than GBP 600 million.
What Do Analysts Say About Dechra Pharmaceuticals Stock Price?
A quick comparison of how the analysts viewed Dechra Pharmaceuticals stock price one year ago and in August 2021 reveals an almost identical picture. However, in the meantime, the stock price almost doubled; perhaps this is the reason why the buy recommendations declined from 3 to 2.

Dechra has a strong balance sheet and operates with a gross profit margin of 56.21% and an operating margin of 11.81%. The cash reserves increased in 2020 by over 180% – if the trend did not change in 2021, the Dechra Pharmaceuticals stock price looks poised to continue its bullish run.