Dax index price prediction after bouncing from key support level
The German Dax index approaches the end of the trading year close to the highs. It recently bounced from horizontal support in the 15,000 points area – what lies ahead for the German stock market index?
Many investors have hoped for a stock market rally in the last part of the trading year. The so-called Santa rally is an investing bias that calls for stocks to rally in the period following Christmas and until the end of the trading year.
Bias or not, this year, the US stock market indexes have rallied. The move higher triggered similar price action in other parts of the world, such as in Germany. The main index in Germany, the Dax, bounced from horizontal support seen in the 15,000 area and now threatens to make a new high for the year.
Dax suffered great changes as it moved from 30 to 40 constituents. 10 new companies have been added to the index in the hope of modernizing it and bring it in line with peers from other parts of the world.
What is the forecast for next year? Will the Dax index perform in 2022?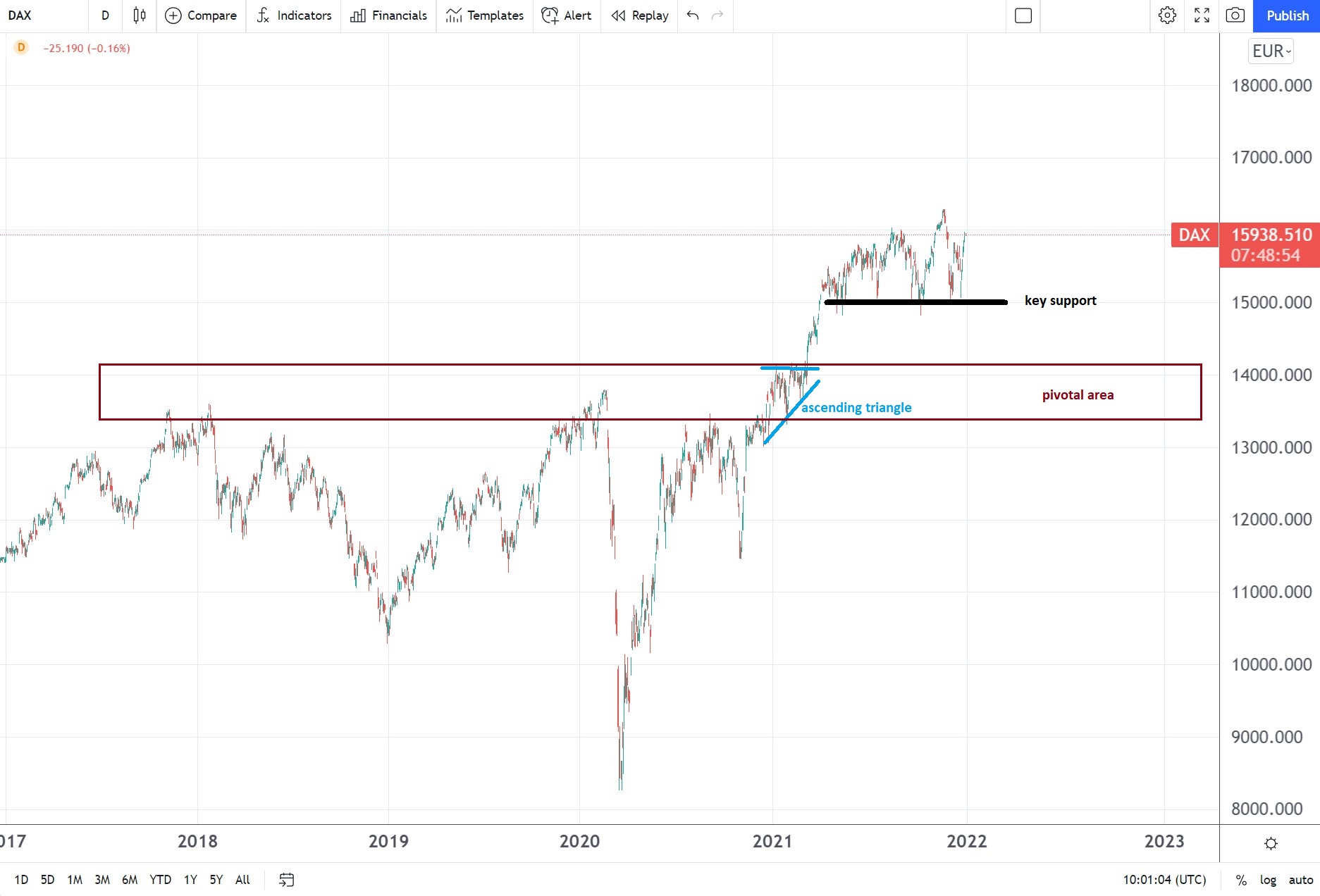 Bullish bias while above 15,000 points
The technical perspective looks bullish while support at 15,000 holds. In 2021 this area was critical for investors in the Dax index, and it remains so in 2022.
On the flip side, a drop below 15,000 should trigger more weakness toward the pivotal 14,000 level. This is one level that offered strong resistance in the past and may offer stiff support in the future.
ECB's accommodative monetary stance to help European equities
Monetary policy is very important for the stock market. Monetary accommodation favors stocks and the ECB vowed to remain accommodative in 2022. This comes in sharp contrast with what is happening in other parts of the world, such as the United Kingdom, where the Bank of England has increased the interest rate in December. As such, European stocks are supported by the central bank's accommodative stance.
Smooth transition of power in Germany to help the stock market in 2022
One of the reasons why the Dax index has not rallied in 2021 as the stocks in the US, for example, was the uncertainty surrounding the German federal elections. Now that elections are behind and a new government in place, the smooth transition of power bodes well for the stock market in 2022.