Daily Update: Nikkei Outlook Brightens after Suga's Resignation
Nikkei outlook brightens as the new Prime Minister candidates promise further stimulus to combat the coronavirus crisis. Lululemon and Kroger report earnings this week.
The trading week ahead starts with a holiday in the United States and Canada – Labor Day. However, the rest of the markets are opened, and the Nikkei 225 index leads the way up as it broke out of a bullish flag pattern.
The Japanese index trades with a bullish tone after Prime Minister Suga announced that it wouldn't run at the upcoming elections. The candidates promised more stimulus to fight the COVID-19 crisis, and the Nikkei 225 index broke higher.
In Europe, the main indices opened the week in green territory. The German Dax index is up over 0.5%, the French CAC 40 index as well, and the FTSE 100 in the United Kingdom trades above 7,150 points.
Oil is down at the start of the week, rejected from the $70 level and trading -0.79% lower today. On the other hand, natural gas continues its bullish run, up over +1.18%. Gold and silver trade with a bullish tone as well, benefiting from the poor jobs data in the United States.
Economic Events to Consider Today
Because today is a holiday in the United States and Canada, the market's volatility will likely be subdued. Things will animate starting with tomorrow as three central banks are due to present their monetary policy this week.

Today's Markets to Watch
Today's markets to watch are Nikkei 225, Lululemon, and Kroger.
Nikkei Outlook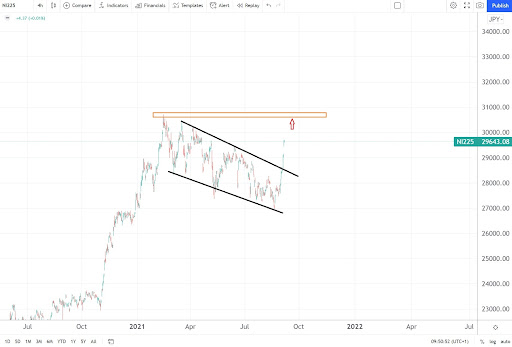 Nikkei consolidated in a bullish flag pattern this year so far and the Prime Minister Suga's resignation triggered a bullish breakout. A daily close above 31,000 signals more strength.
Lululemon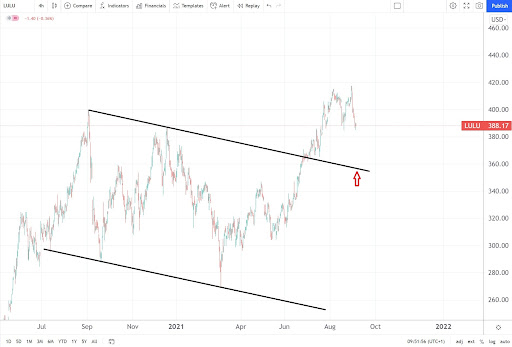 Lululemon investors await the quarterly earnings scheduled to be released later this week. The stock price traded above $400 ahead of the earnings and remains bullish while above the upper edge of a bullish flag pattern. The $360 level represents a key support area, while a daily close above $420 should trigger more strength.
Kroger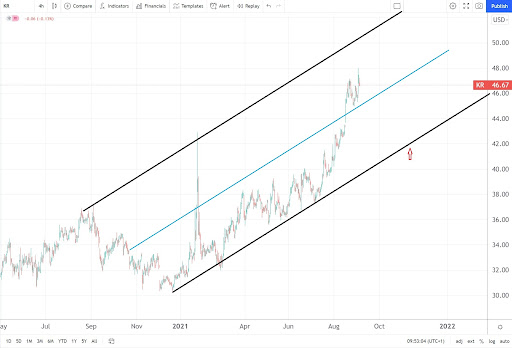 Kroger is in a rising channel since the start of the trading year. Ahead of the quarterly earnings scheduled for this week, the price action remains bullish. The $50 level appears to be a key one, with the market likely to push on better than expected earnings. On the flip side, only a break below the lower edge of the rising channel would alter the bullish momentum.
Winners and Losers
Nikkei 225 started the week with a bullish tone. The Japanese index lagged the bullish price action seen in the European and U.S. markets in 2021, and now it wants to catch up on the lost ground. The U.S. dollar remains weak, trading without direction after the U.S. jobs data disappointed last Friday.