Daily Update: Dow Jones Outlook Turns Bearish Short Term after FOMC Minutes
Dow Jones dropped below 35,000 after the FOMC Minutes. One week ahead of the Jackson Hole Symposium, equity markets put pressure on the Fed's intentions to taper asset purchases later this year.
The main event of the trading week is behind us now, and the equity markets took a bearish turn shortly after. The FOMC (Federal Open Market Committee) Minutes confirmed the Fed's intention to discuss asset purchases in the next meetings. The equity market indices in the United States dived.
Dow Jones dropped well below 35,000. It has formed a rising wedge pattern recently. At its highest level, it also formed a double top. By the time it dropped below the rising trendline, the weakness accelerated.
The drop in the U.S. equity markets quickly spread. In Europe, the main stock market indices opened lower, with the German Dax index falling by -1.45%, French CAC 40 by -2.31%, and the U.K. FTSE 100 index by -1.24%.
A strong U.S. dollar accompanied the bearish drop in stocks. The EUR/USD pair, the most popular among retail traders, fell below 1.17, reaching its lowest level in 2021.
Commodity prices dropped as well. The WTI crude oil price broke below $65 and now trades in bearish territory, seen at $63.66 at the time of writing. Gold is down only -0.33%, while natural gas dropped almost -1.5%.
Economic Events to Consider Today
The economic calendar for the rest of the trading day is pretty light. The scheduled data is not important enough to influence the daily price action. As such, the focus remains on the fundamentals.

Today's Markets to Watch
Today's markets to watch are Dow Jones, Deere & Co., and Alibaba.
Dow Jones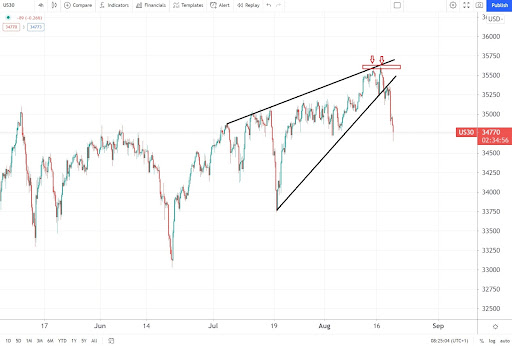 A falling wedge is a reversal pattern. After the market breaks below the rising trendline, the safest way to trade it is to go short and place a stop at the highest point in the pattern. The target is set at the 50% retracement of the entire wedge's length, and often the price action following a rising wedge retraces the entire pattern.
Deere & Co.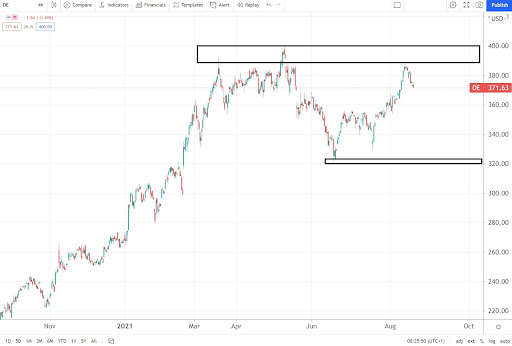 Deere stock price met stiff resistance at the $400 area. Moving forward, the chances are that we will see consolidation between $320 and $400, with the bias remaining bullish as long as the $320 level holds.
Alibaba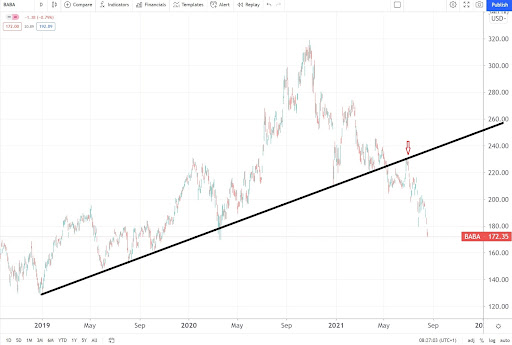 Alibaba has had a rough 2021 so far. The Chinese authorities have put pressure on tech companies, and the market participants have started to liquidate positions. After breaking the main trendline that acted as support even during the 2020 meltdown, Alibaba stock price keeps dropping. If it breaks below $140, the selling would likely accelerate, while only a move back above $240 would invalidate the bearish trend.
Winners and Losers
A strong U.S. dollar led to weakness in the equity and commodity markets.