Daily Update: Dow Jones Looks Like It Could Climb Higher Ahead of the NFP Report
The Dow Jones is back above 35,000 as it makes a V-shape recovery. Weakness seen at the start of the trading week has disappeared as equity markets are again threatening to hit new highs.
Equity market indices are back higher after the weakness seen at the opening of the trading week. The Dow Jones climbed back above 35,000 ahead of the private payrolls due out today and the non-farm payrolls (NFP) report on Friday.
The tech sector has returned to the highs, too. Despite the weakness in the Chinese markets, the Nasdaq-100 has bounced back above 15,000 as buyers were not shaken.
The strength in the US markets has led to a strong opening in Europe. The German Dax is particularly strong, trading at a new record high (15,673) at the time of writing, and similar strength is seen on all major European bourses.
Oil tests the pivotal $70 level, and a daily close below may signal more weakness ahead. Gold and silver are little changed on the week, mostly consolidating around their opening levels.
Economic Events To Consider Today
Private payrolls and the ISM Services PMI (formerly the Non-Manufacturing ISM) have the power to move markets today. Market participants will focus on the employment component in the ISM release and the ability of the private sector to create jobs. Strength in the jobs data will likely push equities to new record highs.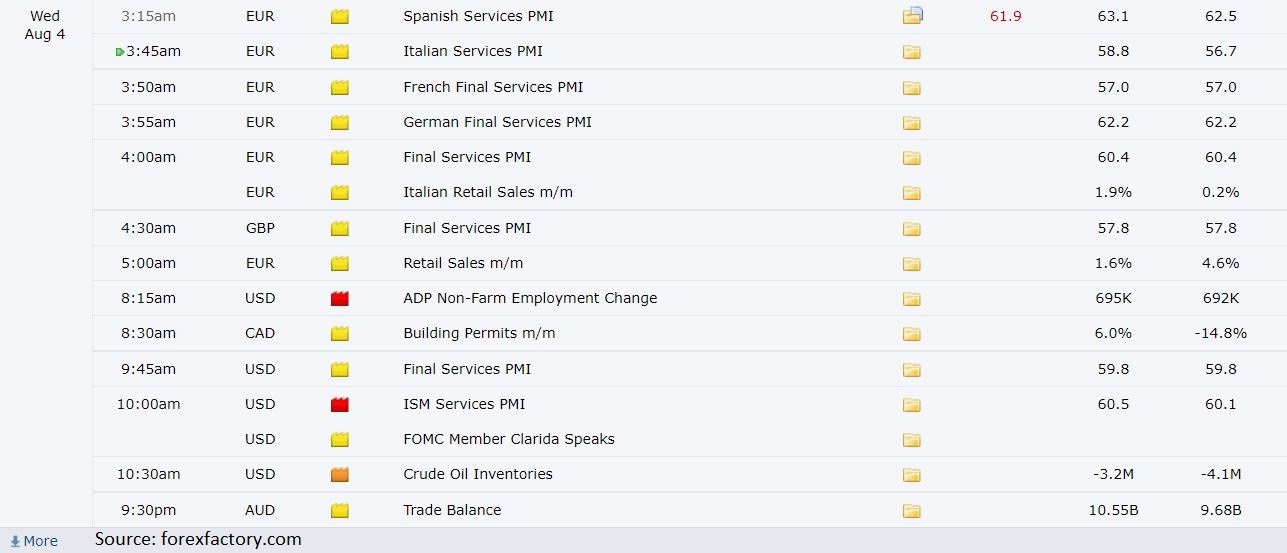 Today's Markets to Watch
Today's markets to watch are the Dow Jones, General Motors, and Uber.
Dow Jones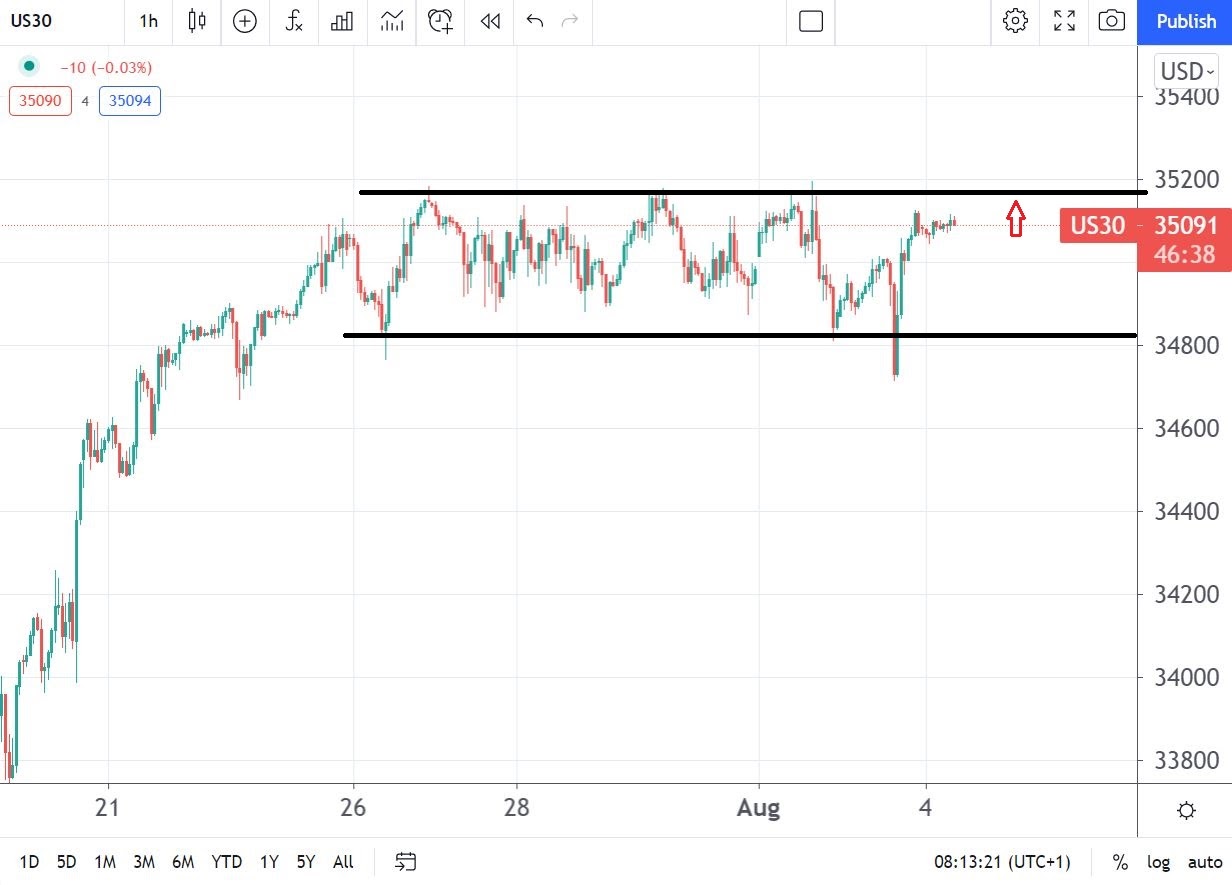 The Dow Jones technical picture shows how the buyers stepped in on every decline. This is a bullish pattern that resembles a flag, and traders may want to wait for a daily close above 35,200 before buying. On the flip side, a close below 34,800 shifts the bias to the downside.
General Motors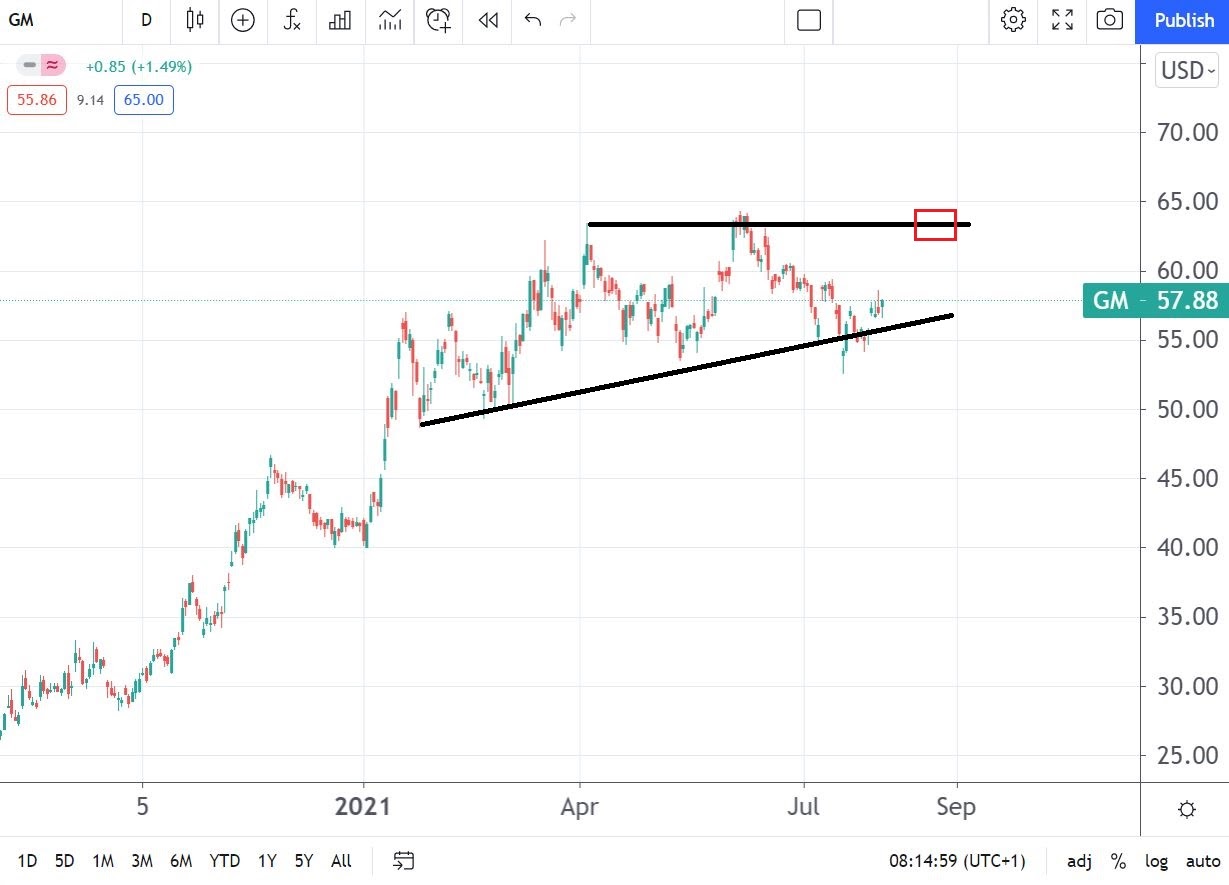 General Motors announces its Q2 2021 earnings later today at around 7.30 am ET. The price has formed a possible ascending triangle, and better-than-expected results may be enough to propel it above resistance observed at $65. Investors expect EPS of $1.85.
Uber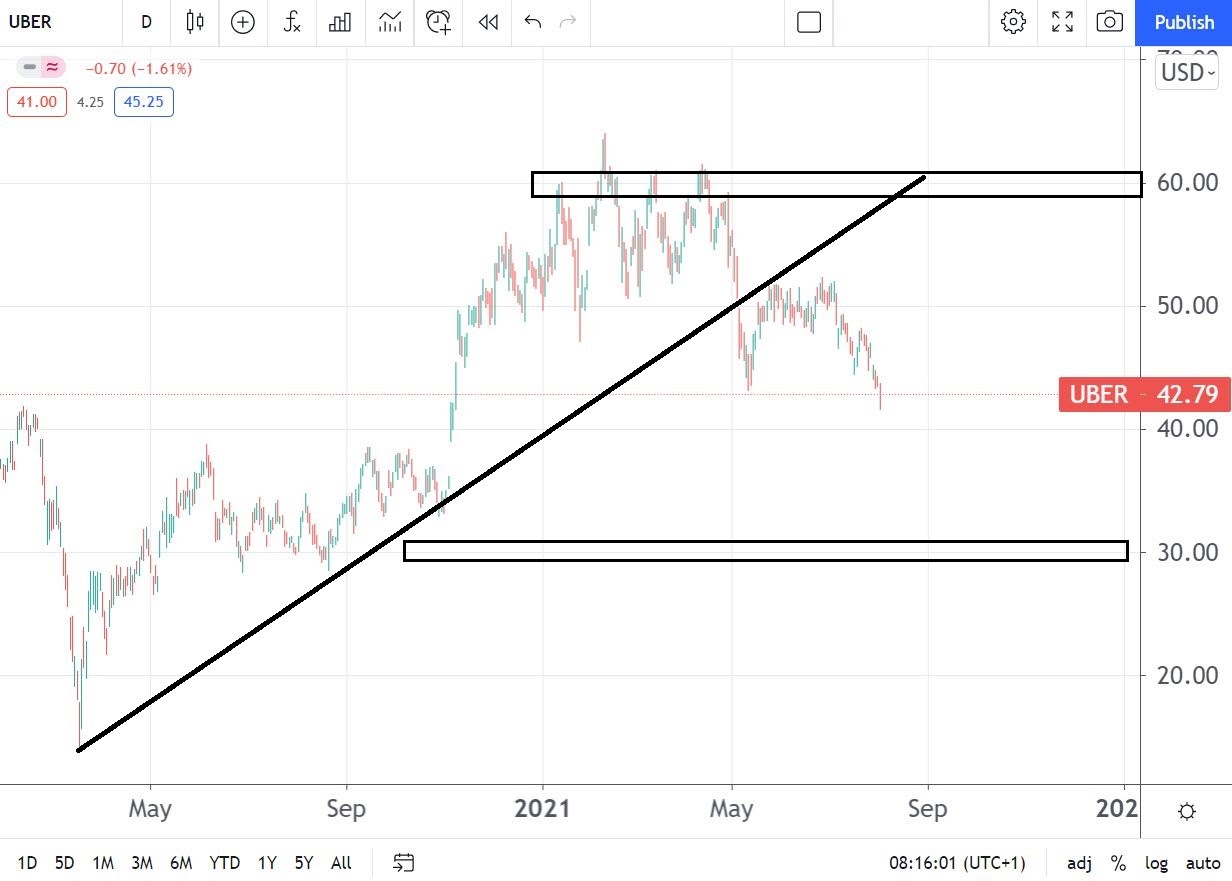 Uber is in a bearish trend this year, as suggested by the series of lower lows and lower highs it has made so far. The company reports its Q2 2021 earnings later today and a positive surprise may be enough to turn the bearish trend around. From a technical perspective, a move above $50 is just what buyers need, as it signals further strength towards the $60 area. On the flip side, a move below $30 will indicate further weakness.
Winners and Losers
Equity markets in the US and Europe are strong; WTI crude oil looks weak as it tests support at $70.