Crypto Trading for Mere Mortals
Despite my background as a financial writer and sometimes successful trader of stocks and other securities, the cryptocurrency craze has pretty much passed me by, so can I (and you) get in on the act?
Okay, so I'm no slouch or "mere mortal" when it comes to trading. I've been trading stocks, indices, commodities, and other assets for at least 20 years, and writing about them for just as long. I even have a university degree in computer science, which should enable me to understand the blockchain underpinnings of cryptocurrencies. And yet, the cryptocurrency craze has almost completely passed me by. But why?
For one thing, I didn't need to trade cryptos because my portfolio was performing okay without them, thank you very much. But with hindsight, it didn't do as well as it would have done if I'd been more adventurous with this alternative asset class.
For another thing, the UK's Financial Conduct Authority (FCA) banned UK retail traders from speculating on cryptocurrencies in January 2021 due to their volatility, so I would have had to have re-registered as a professional trader with my main spread betting broker.
What Are Cryptocurrencies?
The "currency" part of the word "cryptocurrency" refers to the fact that cryptocurrencies such as Bitcoin are digital or virtual currencies that can be owned, saved, or spent, theoretically just like the regular "fiat" currencies such as the US dollar or British pound that we're used to. The "crypto" part of the word refers to the fact that these currencies are secured by cryptography that ensures they're unique: you can't copy one or spend it twice.
Unlike traditional currencies, cryptos are typically not issued by a central authority such as a government or bank; they are decentralised and based on blockchain technology that implements a electronic distributed ledger.
Bitcoin was created as the first decentralized cryptocurrency in 2009, since when there has been a proliferation of alternative coins that people can purchase, you can buy Litecoin or Ethereum for instance. The value of the Dogecoin cryptocurrency, which was created originally as a joke, has been boosted by the mischievous tweets of American entrepreneur Elon Musk.
Should You Buy Cryptocurrencies Right Now?
Looking in the rearview mirror, I should have bought bitcoins in October 2020 and then sold them in April 2021, for an almost sixfold profit in little more than six months. With less-than-perfect foresight, it might not be too late because Bitcoin could be bouncing back from its 45% crash, and you could buy on what is still a dip.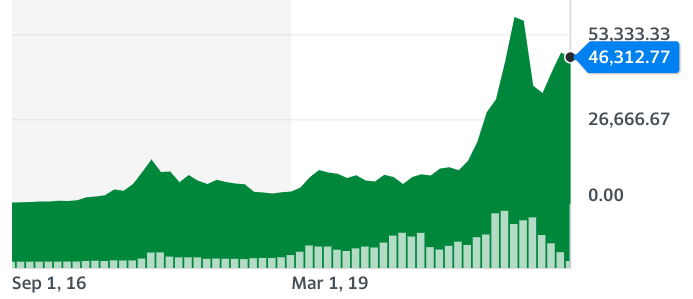 Bitcoin 5-year price chart (source: Yahoo! Finance)
Alternative coins such as Dent are apparently also on the rise (which is something of an understatement).
Cryptocurrency Price Targets 2021
Cryptocurrency aficionados think that there is only one way for their favourite coins to go: to the moon. In the case of crypto aficionado and space travel pioneer Elon Musk, this could literally be true.
Where to Trade Cryptocurrencies
Brokers such as eToro let you trade the top cryptocurrencies, stake crypto (to earn rewards), copy the trades of other crypto traders, and even invest in a ready-made crypto portfolio. Other brokers allow you to do similar things. Here are two brokers to choose from:
eToro
eToro is one of the world's leading multi-asset trading platforms offering some of the lowest commission and fee rates in the industry. It's social copy trading features make it a great choice for those getting started.
Webull
Financial company driven by technology and offering all-in-one self-directed investment platform that provides excellent user experience.