Crude oil price prediction after OPEC+ sticks to its production plan
The OPEC+ meeting is over, and the cartel decided to keep the current production plan intact despite pressure from the United States to increase production.
The price of oil is in a bullish trend since it traded below zero in 2020. Since then, it formed an ongoing series of higher highs and higher lows, typical for bullish trends.
Shorting oil under such conditions is for the brave ones. Traders look at fundamental and technical factors before taking a position in a market. From a fundamental perspective, the oil price should remain bid. Like any commodity, the price of oil depends on supply and demand imbalances.
More precisely, when supply outpaces demand, the price comes under pressure. Conversely, when demand outpaces supply, the price remains well bid.
The latter happens currently. One of the reasons why the price of oil rose during the pandemic was the strong economic recovery that led to increasing demand. At the same time, the oil production did not keep up with the rising demand, and so the price of one barrel of oil kept rising.
The price of oil is critical to financial markets due to its direct influence on inflation. On the other hand, inflation is closely monitored by central banks willing to fulfill their price stability mandate. As such, the close connection between the price of oil and monetary policy is why traders and investors closely monitor the developments in the oil markets.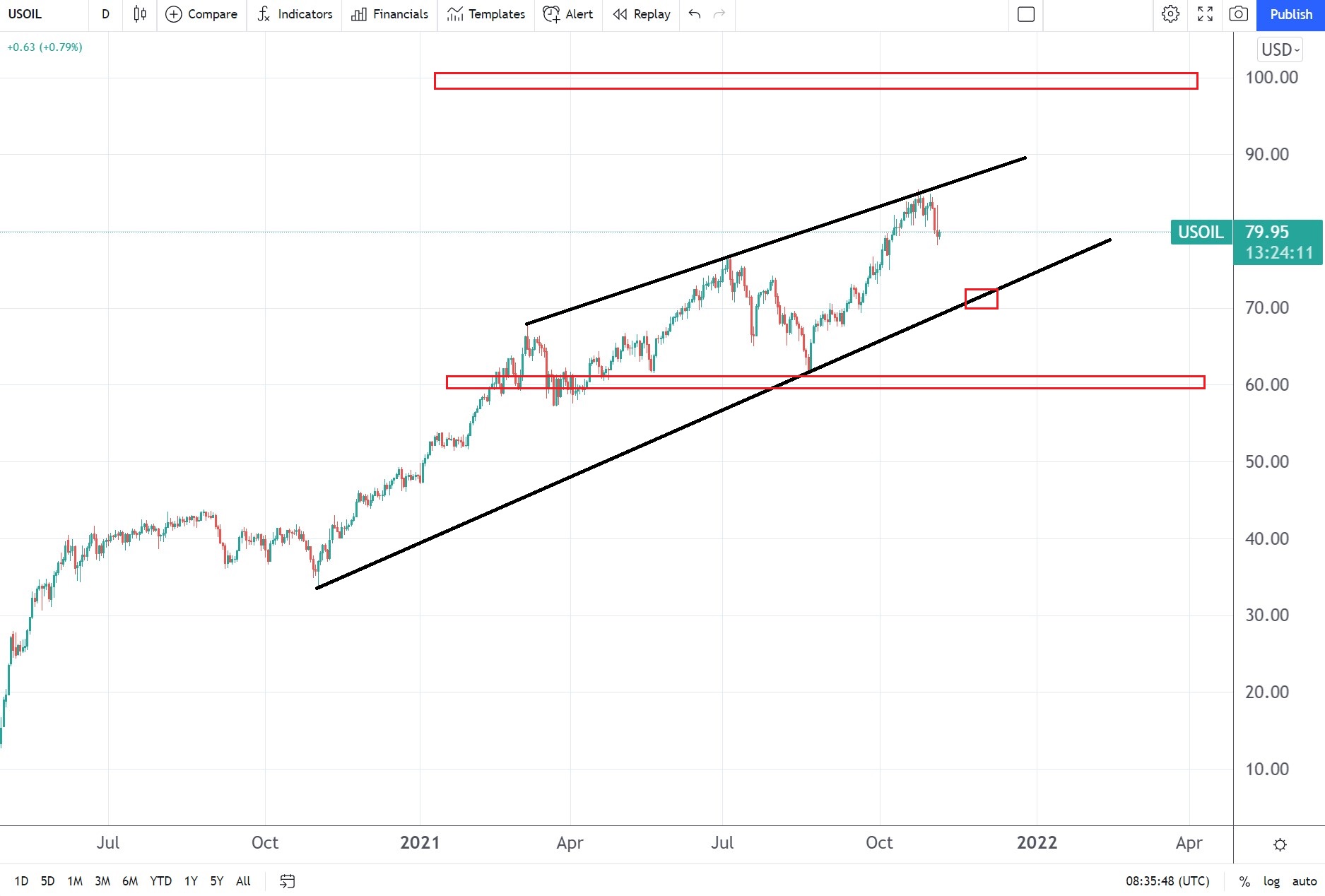 Oil remains bullish while above $60
The technical picture remains bullish while the WTI crude oil price trades above $60. The market traded above $83 recently and has now eased below $80.
However, only a move below $60 would invalidate the bullish trend. On such a move, traders would focus on a possible rising wedge pattern – a reversal one. Also, such a move means that the series of higher highs and higher lows mentioned earlier is broken.
Until then, the price of oil should find support on any dip. The first level of support comes at the $70 area, where the market meets dynamic support given by a rising trendline. If there is a place where buyers would step in, that is the one.