Coinbase shares on the market for one year, down more than 60 percent
Just over a year ago, on April 14, 2021, US Coinbase made history by becoming the first major crypto company to release freely tradable shares.
The launch was preceded by a huge hype, as the bitcoin price made new highs almost every day. This should give the rally its final push towards a price of $100,000 per bitcoin.
Taking advantage of opportunities
Major players such as Ark Invest announced with great enthusiasm that they wanted to take advantage of this opportunity and bought many shares.
The share has now been tradable for a year, and we know that the bitcoin price collapsed after the release of the Coinbase shares. The value of the share also experienced ups and downs. Time for a look back, how has Coinbase performed? And what can you expect from the future?
Not a good year for Coinbase
When Coinbase made its debut on the public stock markets in April 2021, it was received with open arms. At launch, the trading value of one share was $380. On the first day of trading, that turned out to be too much of an aim, but the stock had a lot of success in the first few months.
The reason why the stock was fairly stable and successful in the beginning was because the crypto market was still in a bull rally. Bitcoin may have already hit its All-time high, but many popular altcoins didn't peak until late May.
This helped stabilize the stock's value and boost confidence in the stock's future potential.
No mercy
But the crypto market has no mercy, or more accurately, China and Elon Musk have no mercy. China banned bitcoin mining, and Musk stopped crypto payments from Tesla. Since Coinbase is a crypto company, the value of its share appeared to be closely related to the performance of the crypto market and this had a negative impact on the price.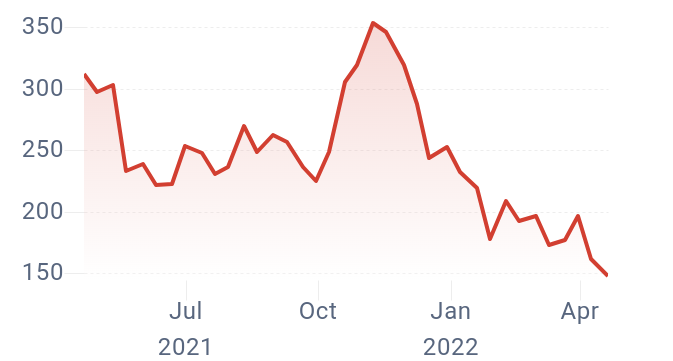 Towards the winter of 2021, bitcoin revived one last time, and was worth nearly $70 thousand, a new record. You can also see this directly in the chart above, the share of Coinbase reached a new high.
Since then, the market seems to have lost interest. Many altcoins are no longer a shadow of what they were last year. Bitcoin can't decide whether to stay above or below $40,000 and the public's attention seems to be waning.
As a result, the price of a Coinbase stock has fallen to virtually its all-time low. Its value is down more than 60% since its launch a year ago, with shares now trading for around $147.
Competition takes steps
The performance of the crypto market is the main culprit for this, but it is not all. Then Coinbase would get rid of it very easily. Over the past year, major competitors have emerged globally, both globally and in the US and other markets.
Think of the growth of FTX and Crypto.com. With all their sponsorship, it's quite possible that normal consumers know these brand names better than Coinbase by now. In addition, Binance remains the largest crypto exchange.
In many stock markets, investors can opt for ETPs/ETFs that give investors access to crypto exposure through traditional avenues.
Others, such as private investors, have poured money directly into the crypto market, preferring to seize their opportunity through direct exposure to the market rather than through traditional financial avenues. In other countries, local players are often in charge.
Fundamentally still strong
Coinbase's poor performance over the past few months may be a cause for concern, but it in no way means the end of Coinbase's big promises.
As we mentioned, the value of the stock is closely intertwined with the performance of the crypto market. As fast as it can collapse, that's how fast crypto prices can skyrocket. Should this interconnectedness continue, there is a good chance that Coinbase will hit new highs during the next bull rally.
In addition, fundamentals for the company remain strong even during these times. Coinbase made a profit of $840 million in the last quarter of 2021.
The number of users continues to grow steadily. In the fourth quarter of 2021, a jump was made from 58 million to 89 million verified users.
In addition, it is now possible to trade NFTs on Coinbase, and this could bring even more users if they can cope with OpenSea.
Rebuked by SEC
There were also bad days for Coinbase. For example, the company wanted to offer a savings product with interest, similar to Blockfi. Users would then put stablecoins and crypto in a savings account to earn interest on them. The US financial watchdog SEC didn't like this at all, so Coinbase threw the plans on the shelf without a fight.