Chewy Stock Price Bounces from 2021 Lows Ahead of the Quarterly Earnings
Chewy (NYSE: CHWY) is off the 2021 lows as investors await the quarterly earnings. The stock price peaked early in the trading year and corrected until recently. Investors expect EPS of -$0.01 for the previous quarter.
Chewy is an American company providing pet foods and other related products and services. It rose above $100 for the first time during the COVID-19 pandemic as its e-commerce platform registered increasing sales. But as the new year unfolded, investors reduced their exposure to Chewy, as pandemic fears abated.
Chewy stock price recovered some of the losses incurred in 2021, as investors prepare for the quarterly earnings to be released on September 1st. The market expects the company to almost break even on the quarter, but if we judge by the previous results, the bias is that Chewy will post positive EPS.
The recent rise in the infections with the Delta variant may have brought back the pandemic fears. This way, one can find a fundamental reason for the Chewy stock price's bounce from the lows. Another could come from the quarterly earnings to be announced next week.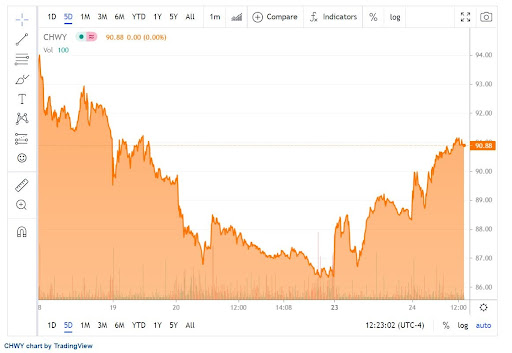 Is Chewy Stock Price Anticipating Better EPS?
Investors usually have a longer-term horizon when deciding to buy a company's shares. The picture below is relevant for how investors view Chewy's financial performance.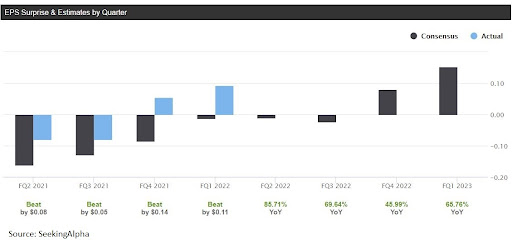 The bad part is that the company is still expected to lose money, although it did not lose in the previous two quarters. The good part is that the company is not expected to lose money for long – in fact, EPS are forecast to increase spectacularly.
No analyst covering Chewy stock price has issued a sell rating. Out of the 33 analysts, 24 have buy ratings and the rest have neutral ones. Needham & Company has a price target of $120, while Baird Patrick & Co. has a price target of $105.