Canadian jobs data is due next week; here's what to expect
Next Friday, the Canadian jobs data for December is due. Will it be a game-changer for the Bank of Canada?
The first Friday of each month is typically dedicated to jobs data from the United States and Canada. Most of the time, the two releases are out simultaneously, making it difficult to trade the USD/CAD pair.
However, for fundamental traders (i.e., traders who interpret the economic data and buy or sell a currency based on economic trends), the implications of the jobs data in the bigger monetary policy picture are more important. For example, in November, Canadian employment jumped by 154k, bringing it back to pre-pandemic levels.
Moreover, the labor force participation rate is also close to its pre-pandemic level, coming out at 65.3% vs. 65.5% before the COVID-19 pandemic. The labor force participation rate is showing what percentage of the population is working or is actively looking for work. Naturally, the higher the ratio, the better.
Some concerns still persist, though. For instance, productivity fell by 1.2% in the third quarter of 2021 and labor supply barely rose. What to expect next week and how will the employment data change traders' expectations?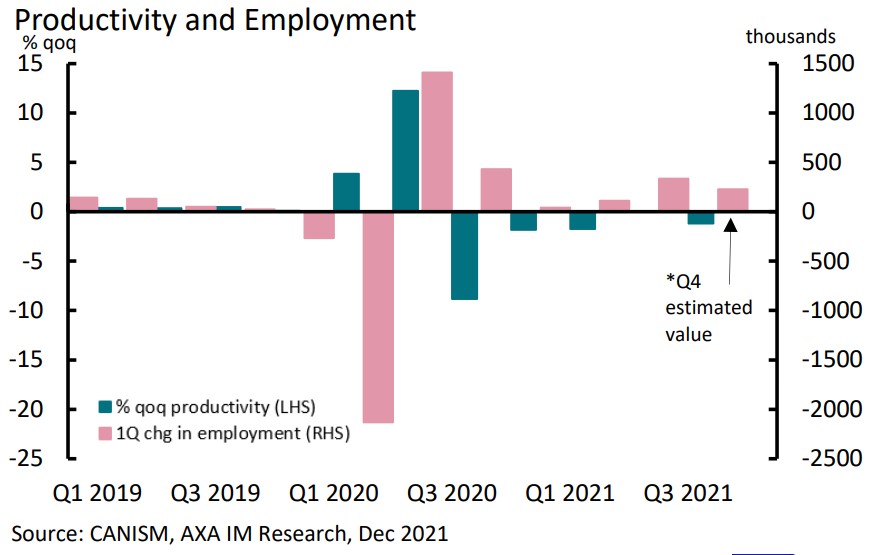 Labor market tightens
Next weeks employment report in Canada is forecast to show further labor market tightening. Coupled with the CPI inflation running at a three-decade high, it brings the Bank of Canada on the brink of tightening the monetary policy faster.
Speaking of the Bank of Canada, it kept the interest rate to its lower boundary of 0.25%, but the market prices in five hikes in 2022 followed by another three in 2023. Moreover, the first rate hike is expected as early as this upcoming January.
In other words, the employment report due to be released next Friday may act as a confirmation for the first hike to come in January. As such, a better-than-expected employment report may trigger investors' confidence in a rate hike and thus, the USD/CAD pair may trade above the pivotal 1.30 level.