BioNTech Stock Price Surges in 2021, up over 330% Ahead of Q2 2021 Earnings
BioNTech (BNTX: NASDAQ) keeps posting new highs in 2021. Buyers are not afraid of owning a biotechnology company best known for its contribution to the development of the COVID-19 vaccine.
BioNTech needs no introduction anymore – it became a global brand as it delivered one of the COVID-19 vaccines during the pandemic. Interestingly, the BioNTech stock price surged in 2021 and not in 2020 when the vaccine announcement was made.
The stock price is up over +330% in 2021 alone and, on the 9th of August, the company will release its Q2 2021 earnings. The market expects an EPS of $8.90 and the annual revenue estimates for 2021 to reach $15.51 billion.

Analysts' Opinion about BioNTech Stock Price
Together with Pfizer, BioNTech developed the COVID-19 vaccine. It is now distributed in the United States under the emergency procedure, but the FDA's final approval is expected in early September.
Another positive aspect is that the US Army has recently awarded a $3.5 billion contract to Pfizer to produce COVID-19 vaccines, with positive spillovers for BioNTech, too.
The company trades at a P/E GAAP (TTM) ratio of 64.50, more than 80% higher than the sector median. Last quarter, it delivered a positive earnings surprise, beating the market's revenue expectations by $329.35 million.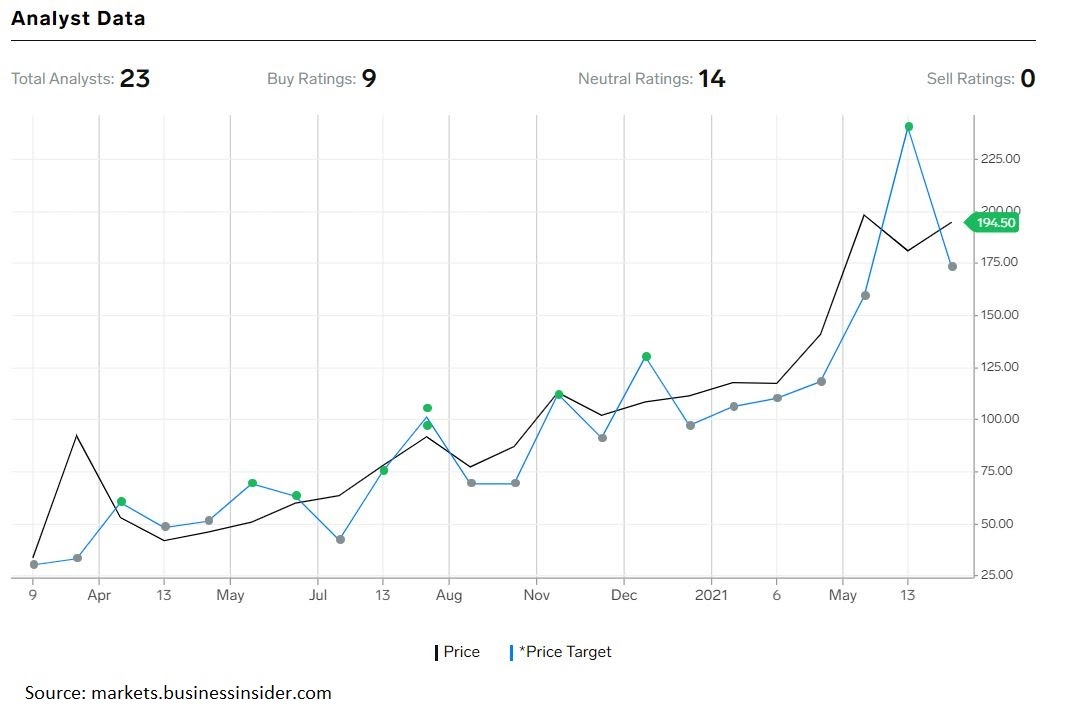 Analysts are optimistic about the future path of BioNTech's stock price. Out of the 23 analysts covering the stock, 9 issued buy ratings, and 14 have neutral ones. No analyst has a sell recommendation for BioNTech stock.
BioNTech is based in Mainz, Germany, and was founded in 2008. It now employs over 2,200 people, and it quickly became one of the leading companies in the biotechnology industry.