Best reasons to buy RPM International ahead of the quarterly earnings
RPM International (NYSE:RPM), reports its Q2 FY2022 earnings next week. Here are three reasons to buy the stock: hefty dividends, outstanding long-term returns, and strong earnings.
RPM International is an American company operating in the specialty chemicals industry. It makes tapes and foams, and it offers roofing and building maintenance services, among others.
Founded in 1947, it is headquartered in Medina, Ohio, employing over 15,000 people. RPM International operates with a gross profit margin of 38.48%, much higher than the 30.50% sector median, and the three-month stock performance exceeds the sector median by almost 500%.
At the current stock price, the company is valued at $12.65 billion, and the enterprise value has reached $15.13 billion. RPM International is one of the first companies to report its quarterly earnings in 2022.
Dividend-paying company
RPM International is a dividend-paying company with a dividend payout ratio of 42.21% and a five-year dividend growth rate of 6.48%. Moreover, RPM International has increased its dividend for 48 consecutive year, a track record matched by less than 50 publicly traded companies in the United States. All this time, the company has returned $2.8 billion to shareholders and also delivered long-term returns.
Long-term returns that outpaced the S&P500 by over 30%
Besides the dividend track record, the total return delivered by RPM International over the last decade has outpaced the S&P 500 by 33%. It should be mentioned here that the S&P 500 was in a bullish market for most of this time, which makes the RPM International track record even more impressive.
Did not miss EPS earnings for the past 11 quarters
Another aspect to consider before buying RPM International stocks is the impressive earnings record. The company has beaten its EPS earnings for the past 11 consecutive quarters, and for Q2 FY2022, the market expects $0.83/share. Also, the annual revenue estimate for the fiscal period ending May 2022 is $6.42 billion, expected to reach $6.78 billion by May 2023.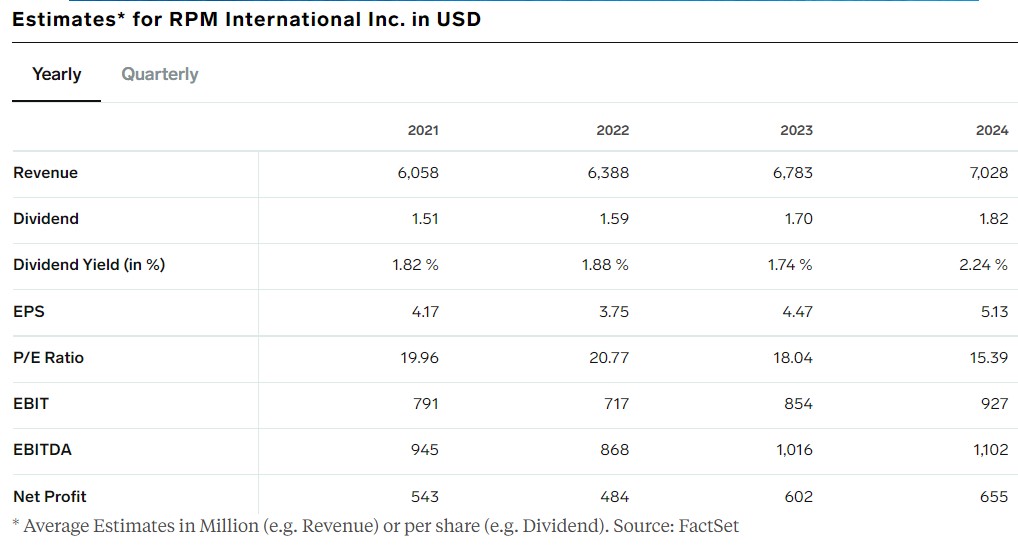 Valuation does not look stretch at all, considering that the stock price is up only 9.66% YTD. As such, the P/E ratio adjusted lower, to 19.96, expected to increase in the short-term but to decline to 15.39 by 2024.