Interest rates are on the rise: here are 3 regional banks worth investing in
The Federal Reserve of the United States turned hawkish as it doubled the pace of its asset purchases. The market expects multiple federal funds rate next year, and commercial banks stand to benefit.
Only a few days after the Federal Reserve of the United States (Fed) announced the doubling of the tapering of its asset purchases, the stock market is down sharply. The fear of tapering lingered for quite a while in 2021, and now that the Fed moves faster towards tightening, investors flee risk assets.
Nevertheless, opportunities do exist. Regional banks provide diversification benefits, and most of them pay a hefty dividend.
An environment of rising interest rates is beneficial for commercial banks. Here are three American regional banks to buy amid higher rates: First Bancshares, Univest Financial Corporation, and Nicolet Bankshares.
First Bancshares
First Bancshares is an American regional bank from Hattiesburg, Mississippi. It offers banking products and services to individuals and businesses through a network of about 100 locations in various states, such as Louisiana or Georgia.
The stock price is up +22.93% YTD, and the company pays a quarterly dividend. The dividend yield is expected to increase in the years ahead and to reach 1.76%.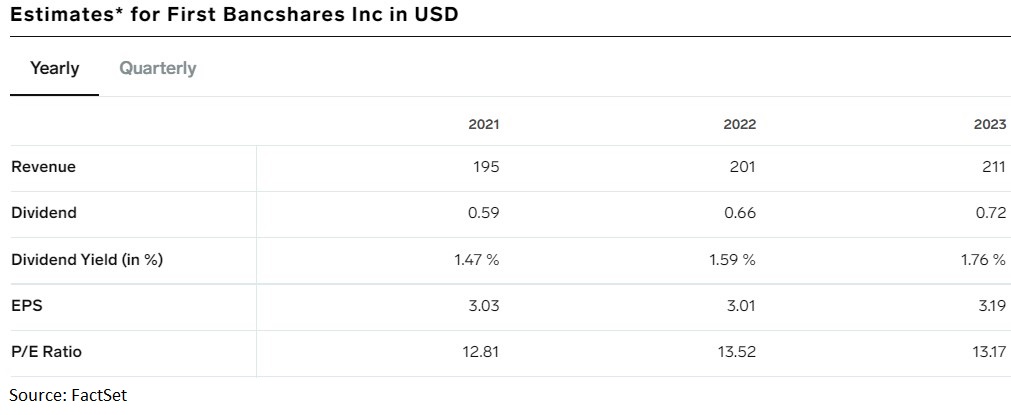 Univest Financial Corporation
Univest Financial is another American regional bank that delivered hefty returns YTD – the stock price is up 40.28% in 2021 as investors anticipated higher interest rates. Moreover, a dividend yield of 2.77% makes the company even more attractive.
Another interesting aspect of Univest Financial Corporation is that it increased its annual revenues much more than the sector median – 48.14% vs. 20.60. Finally, the stock's valuation is attractive, too, as shown by the P/E Non-GAAP ratio of 8.47, lower than the sector median by 22.88%.
Nicolet Bankshares
Nicolet Bankshares operates a network of banking offices in Wisconsin and Michigan, and the stock price is up +21.64% YTD. This regional bank does not pay a dividend, but its revenues are projected to increase sharply in the years ahead and reach $293 million by 2023, much higher than the $217 million in 2021.
The annual EPS estimate for the fiscal period ending December 2021 is $5.50, projected to reach $6.2 by December 2022.