Best 3 months to buy stocks in a calendar year
What are the best three months in a calendar year to buy stocks? December, June, and November lead by far.
Technical analysis is based on interpreting historical price data to forecast future market levels. In other words, what is on the left side of a chart is free information, and various ways of interpreting the data exist.
Statistics work similarly. By interpreting past data, one may form an educated guess about the chances or probabilities of something similar happening in the future.
Wouldn't it be nice for investors to know what are the chances of a positive return in a specific month before buying US stocks? A study compiling the total return of US large-cap stocks from 1926 to 2020 ranks the months during the trading year in terms of the probability of stocks to rise.
So, what are the best months to buy stocks?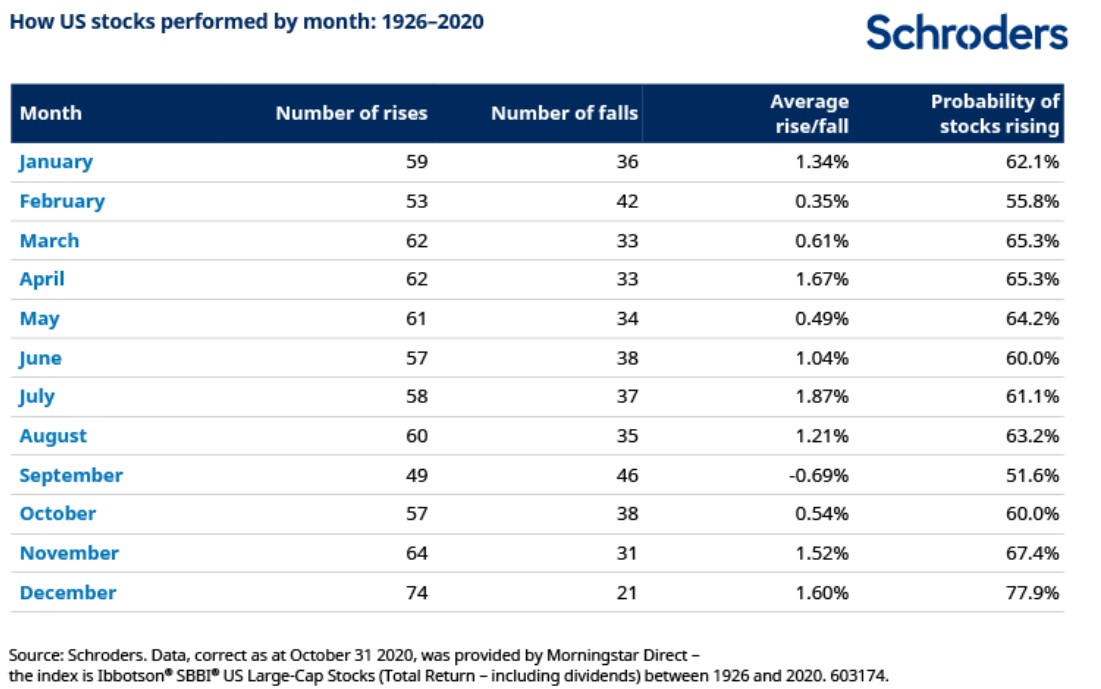 Is Santa Rally guaranteed?
Is a Santa Rally still possible after the impressive run in the US equity markets during the 2020 pandemic and the year that followed? Judging by the historical performance of US stocks, not only that it is possible, but it is highly probable too.
Based on data from 1926 to 2020, December brought a positive return in 77.9% of the cases. In other words, this is the best month of the year in terms of the probability of stocks rising. It has by far the highest probability of positive returns and thus the term "Santa Rally."
June is the month in which historical returns have been highest
If December is the month with the most significant probability of US stocks rising, June is the best month in terms of returns. Since 1926, stocks have returned on average 1.87% in June, making it the most profitable month in a calendar year.
How about the worse one? This award goes to September. Investors returning from holidays are believed to be responsible for the so-called "September effect," meaning that they sell stocks to fund children's education or for tax gains or losses.
After June, November is also a month with a high probability of delivering a positive return. Since 1926, 67.4% of November months delivered positive returns.
All in all, historical data does not guarantee future returns. Nothing does. However, investors may want to have statistics on their side when deciding the best moment during a trading year to buy stocks.