Best 3 arguments to sell Bitcoin in 2022
Bitcoin made a new all-time high in 2021, surging close to $70,000. As the price fell back below $50,000, here are some arguments to keep selling Bitcoin in 2022.
The price of one Bitcoin surged to record levels in 2022. It made two highs above $60,000, and it peaked close to $70,000.
With only a few days left in the trading year, Bitcoin's price tumbled below $50,000. In one day alone this week, the digital currency has dropped by more than 7%, ruining the chances of a Santa rally, as many Bitcoiners hopped.
Is the recent decline just another correction or is the weakness here to stay? Here are three arguments against buying Bitcoin in 2022: a possible double top pattern, a pivotal area that attracts the price action, and the large concentration of Bitcoin in the hands of a few owners.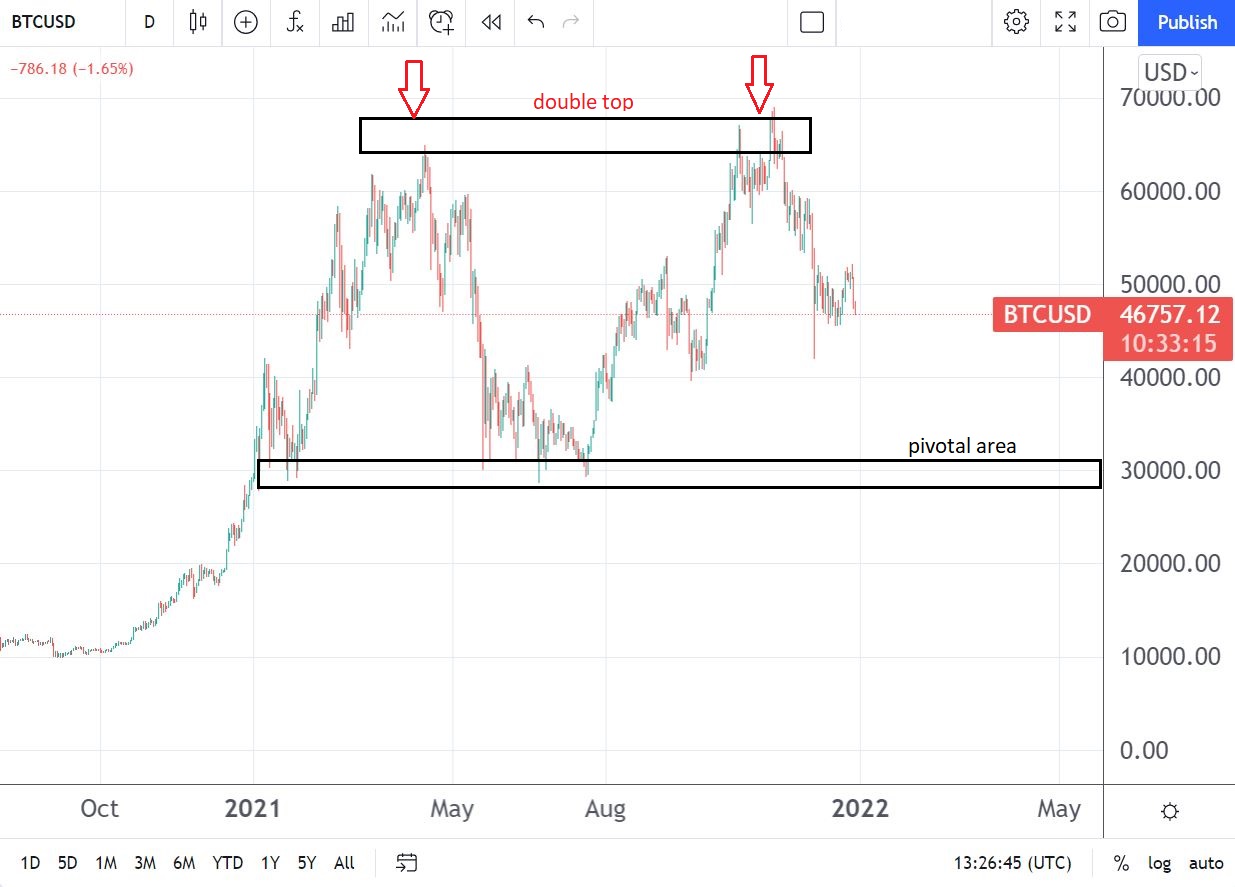 Double top pattern spells trouble for Bitcoin
The first argument against Bitcoin comes from the technical analysis perspective. The recent failure above $60,000 brings into discussion a reversal pattern known as a double top.
A double top appears when the price action fails twice in the same area. The key word here is "area", and not level, especially at assets such as Bitcoin, known for their high volatility.
Such a pattern appears at the end of bullish trends, and a move below the neckline should trigger even more weakness. The neckline is seen at $30,000, a pivotal area for Bitcoin into 2020. Therefore, we can state that Bitcoin remains bullish while above $30,000 and turns bearish while below the pivotal level.
The $30,000 pivotal area attracts price
$30,000 proved to offer strong support for the price of Bitcoin in 2021. After Elon Musk, Tesla's CEO has warned about the environmental damage from mining Bitcoin, the cryptocurrency's price halved.
However, it found strong support at the $30,000 area from which it bounced and then rallied to a new all-time high. Therefore, a drop below would trigger more stops and the decline will likely accelerate.
Large ownership in the hands of few
Another problem for Bitcoin comes from the large ownership in the hands of a few. A recent article published by the Wall Street Journal reveals that 0.01% of Bitcoin holders control 27% of all Bitcoins. The issue here is that this is an unregulated market and thus the risk of price manipulation is very high. Also, it explains the sharp market moves very common on Bitcoin.