AUD/USD price prediction after it dropped 3 big figures from March highs
After dropping sharply from its March highs, the AUD/USD pair finds support around 0.7200 area. Where will it go next as the Fed's decision looms?
The US dollar strengthened across the board in March as the war in Ukraine triggered a flight to safety in financial markets. It even strengthened against the Japanese yen, the proverbial safe-haven currency in the FX market.
Tomorrow, the market expects the Fed to raise the interest rates for the first time since the COVID-19 pandemic started. As a result, it will add a new reason to buy the US dollar against its G10 peers – but is the decision already priced in?
As Australia is far away from the conflict area, some investors initially reacted to the news that war started in Europe by buying the Aussie dollar. As such, the AUD/USD exchange rate traded as high as 0.7440 while the euro tanked.
But now it dropped almost three big figures (i.e., three hundred pips) with one day ahead of the Fed. Is it safe to buy the AUD/USD here?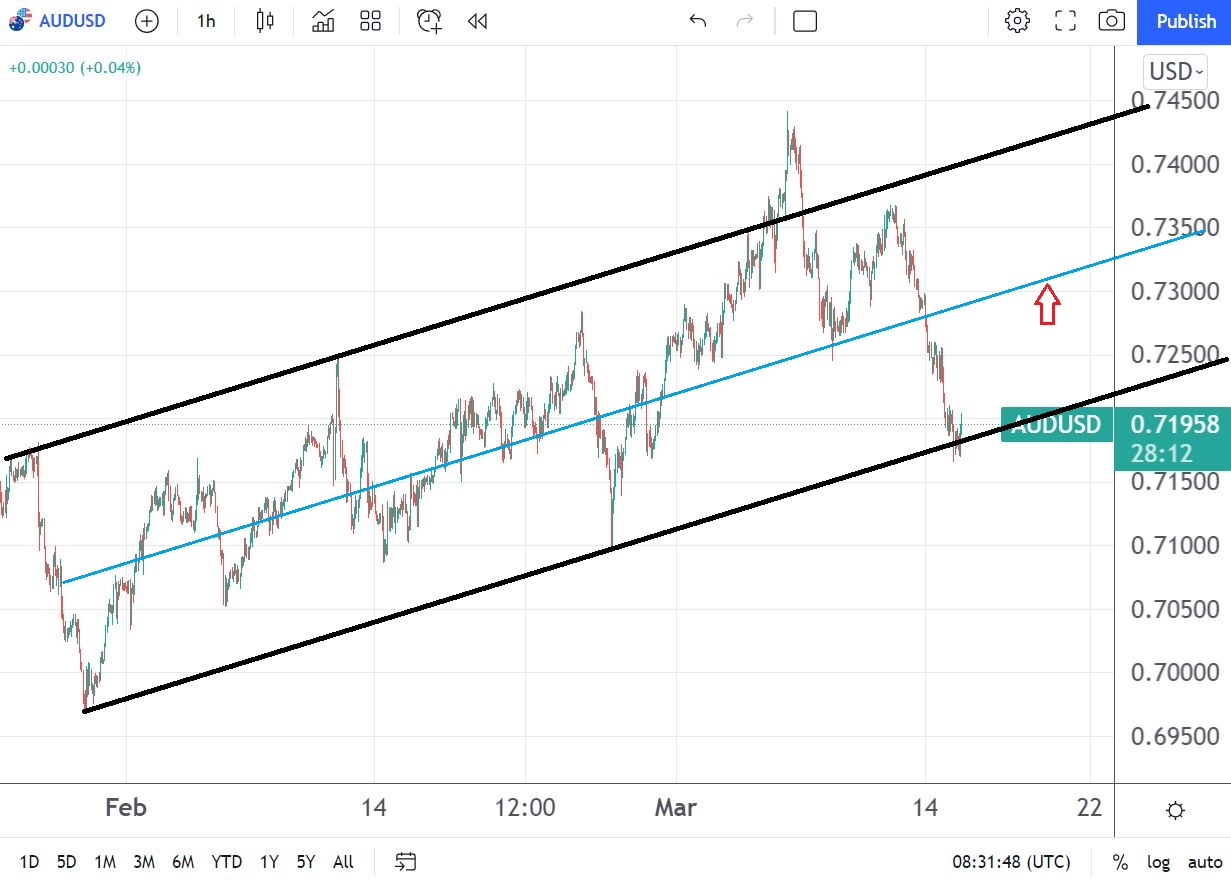 AUD/USD finds dynamic support at the lower edge of a rising channel
The recent bullish trend began in February. AUD/USD bounced from 0.7, a pivotal level, and built a series of higher highs and higher lows ever since.
The series still holds.
Even the decline mentioned earlier was not strong enough to invalidate it. Because such a series defines a bullish trend, the bias remains bullish, especially because the market has now reached dynamic support.
On the flip side, a drop below 0.71 would invalidate the bullish bias. Moreover, the pressure would build on the downside on such a move, and a new attempt at the 0.7 pivotal area might be in the cards.
But until that happens, investors would likely try to push the market above 0.73 and in the upper half of the rising channel. Such a move would maintain the bullish bias and further upside may be possible.
All in all, the Fed holds the key to the next US dollar leg. Also, news from the ongoing war in Europe might easily turn the market sentiment. In such times, traders are better off by keeping the size of their trades small.