Alibaba Stock Price Remains under Pressure Ahead of the Quarterly Earnings Release
Alibaba stock price keeps falling ahead of the quarterly earnings. New Chinese regulation on tech companies has pushed the stock price down over -16% YTD.
Tomorrow, the Alibaba Group will publish its Q1 2021 results . The market expects an EPS of $2.21 this quarter, up 3.27% YoY.
However, regardless of the outcome, the earnings release will likely have little or no impact on Alibaba stock price. The shares of the Alibaba Group are down over -16% this year on US pushing regulations that target Chinese firms in the United States and China pushing tough regulation on the technology sector.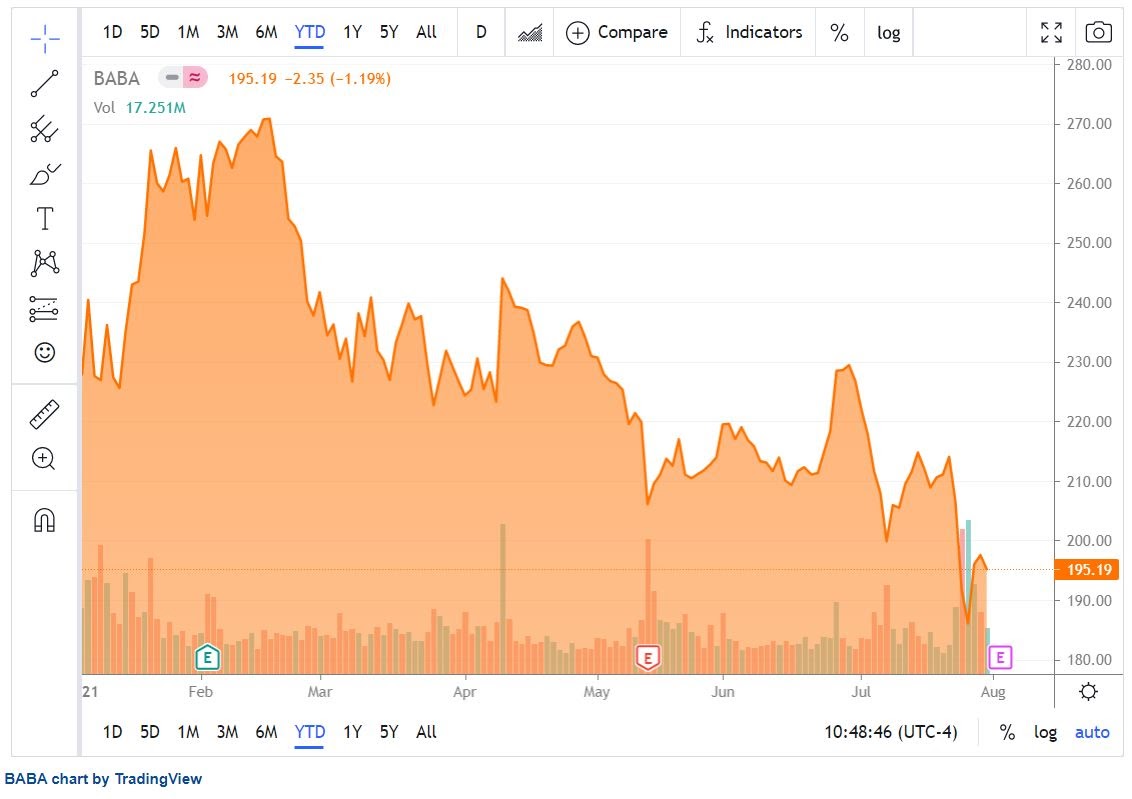 As a consequence, the Chinese tech companies declined on the Chinese bourses – but so did the ADRs (American Depository Receipts) for the US-listed Chinese firms.
The US equity market is the largest in the world and all international companies aim at raising capital from US investors. It is estimated that over 250 Chinese companies are listed in the United States and that the total size of the ADRs is close to $1.7 trillion.
Because of the market size, the drop in Chinese tech companies has triggered a move lower in the US tech sector, too, albeit not so dramatic. As such, the Alibaba stock price will rather move with the tech sector than the Q1 2021 earnings.
Market Expectations for Alibaba's Quarterly Earnings
The annual revenue estimate for the new fiscal year is $143.53 billion and for the next one $173.74 billion. For the last quarter, the market expects an EPS of $2.21. The previous quarter, the company missed the estimate by $0.17.
Alibaba trades at a P/E Non-GAAP (TTM) of 19.76, higher than the sector median by 20.18%.
What Do Analysts Say about Alibaba Stock Price
Despite the troubles for the Chinese tech sector, most analysts have buy ratings for the Alibaba stock price. Out of 42 analysts, 34 have buy ratings, 7 have issued neutral ratings, and only 1 has a sell recommendation.