A bullish case for EUR/GBP as it carved a bottom
EUR/GBP finds strong support at 0.83 and fails to make a new lower low despite Europe being under geopolitical pressure. Can we see a meaningful bounce from here?
EUR/GBP has been a difficult currency pair to trade in the last few years. The Brexit referendum followed by years of negotiations led to chaotic responses from the most traded cross rate in Europe.
Following Brexit, the exchange rate declined from its highs above 0.92 all the way to 0.83 and below. More precisely, a full 1,000 pips move in a little over a year, in what ended up being one of the strongest bearish trends on the FX dashboard.
But 2022 brings hope to bulls. While the bearish trend is still alive, the cross pair appears to have carved a bottom. It is little changed in the year, despite heavy selling on the EUR/USD as a result of a hawkish Fed and geopolitical concerns.
Is there any reason to be bullish on the EUR/GBP cross here?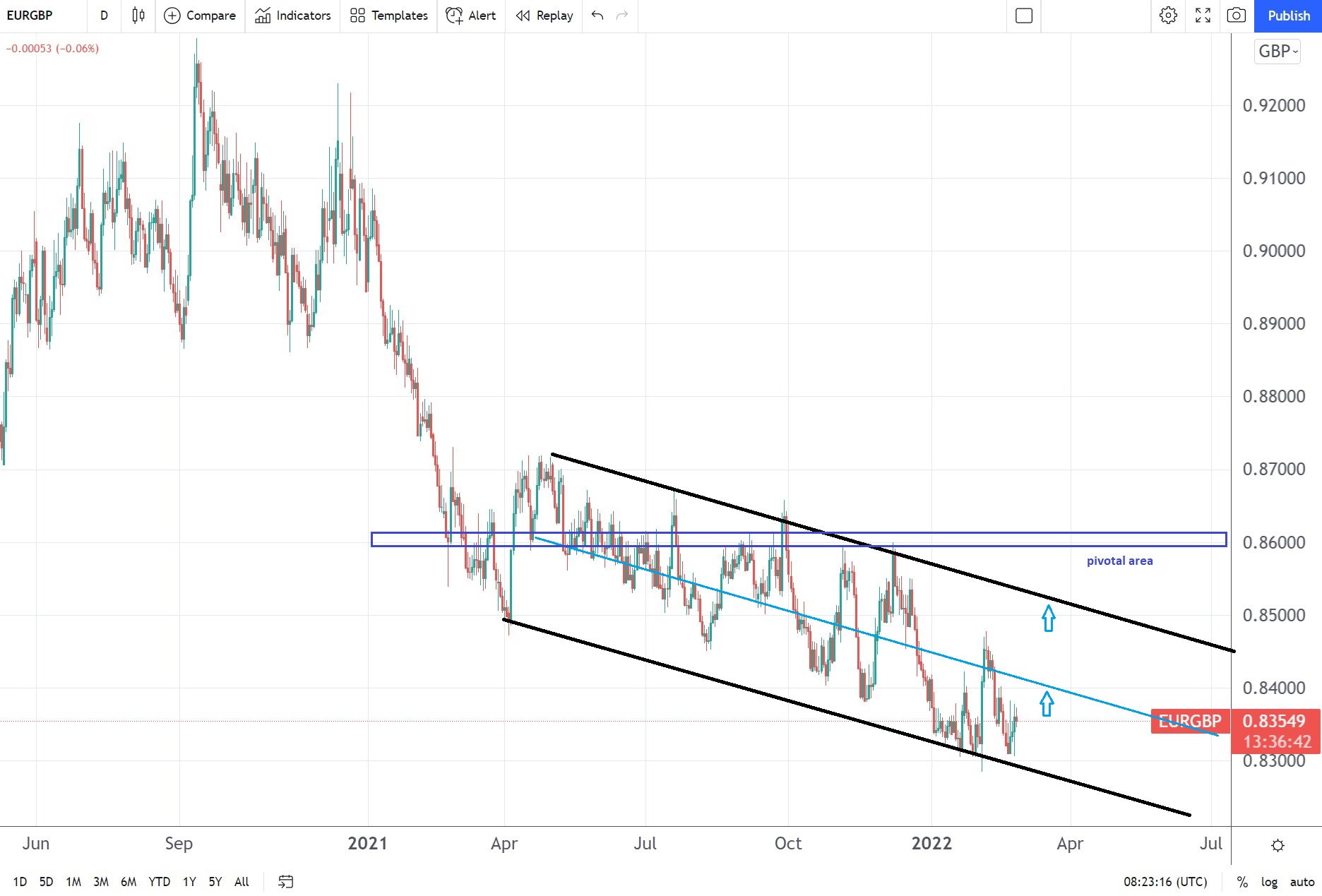 The technical picture favors a bounce
0.83 turned out to offer strong support. The bearish channel that started almost one year ago gives little or no incentive to buy right here, but a move above 0.84 might change everything.
On such a move, the market will likely consolidate for a while before attempting at 0.85. But the pivotal area, and the one to shift the bearish bias to bullish, is 0.86. A daily close and hold above the pivotal area would trigger more upside, as the lower highs series would be invalidated.
Geopolitical events hurting the British pound more
Yesterday was a dark day for Europe. Russia invaded Ukraine, a sovereign state, triggering the start of a war that shatters the old continent.
The common currency was sold right from the start of the trading day. However, the British pound declined more on the day against the US dollar than the euro did.
One explanation could be the British ties with Russians. The sanctions from the UK led to severing these ties, and the UK economy might take some kind of a hit – at least, this partially explains why the pound traded with a weaker tone than the euro.
All in all, the EUR/GBP exchange rate has been in a bearish trend for more than a year. However, it holds remarkably at dynamic support, giving bulls hopes for a rebound.