5 economic events to watch next week as the first trading month ends
Two central banks announce their monetary policy decisions next week. On top of that, the US Advance GDP and the US Core PCE Price Index are guaranteed to move financial markets.
The last full trading week in January is about to start tomorrow, and the economic calendar is full of market-moving events. With the stock market ending the previous week with a bearish tone, here are five events guaranteed to move financial markets in the week ahead, ranked in the order of their importance:
FOMC Statement
BOC Rate Statement
US Advance GDP
US Core PCE Price Index
Euro area manufacturing and services PMI
FOMC Statement
The most impactful economic data and events are from the United States. As such, the US dollar and the US equity markets will experience rising volatility.
On Wednesday, all eyes are on the FOMC Statement and the FOMC Press Conference to follow. The Federal Reserve is expected to raise the federal funds rate at the March meeting, but surprises on the January meeting cannot be ruled out.
For instance, what if the Fed announces an earlier end to its tapering program? Market participants will closely scrutinize every detail as the Fed gets closer to tightening the monetary policy.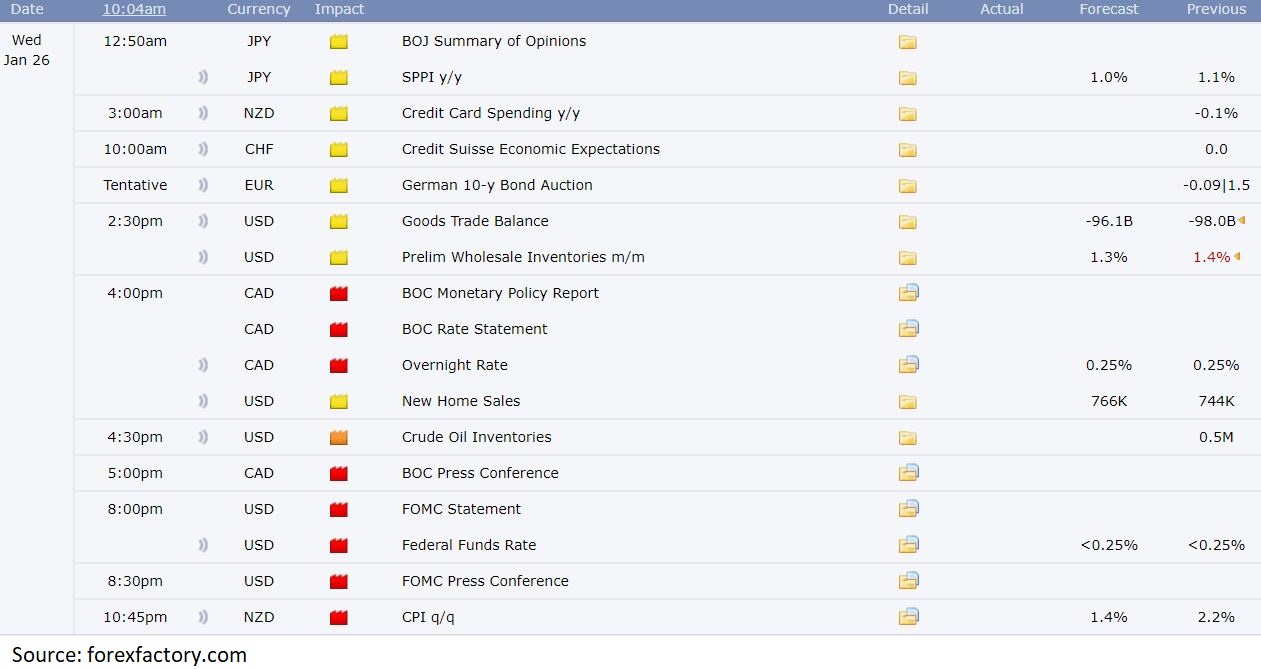 BOC Rate Statement
A few hours before the Fed, the Bank of Canada will release its Rate Statement. The expectations are for the interest rate to remain on hold, but a central bank is known for taking the market participants by surprise.
US Advance GDP
The US Avance GDP for the Q4 2021 will be released one day later. This is the most important GDP data out of the three published quarterly for the simple reason that it is the first one to be released.
It shows how the largest economy in the world performed in the previous quarter, and the market expects 5.3% growth on the quarter.
US Core PCE Price Index
Next Friday brings the US Core PCE Price Index, expected at 0.5% MoM. This is the Fed's favored way of measuring inflation and any deviation from the forecast will move financial markets.
Euro area manufacturing and services PMI
Before dealing with data from North America, investors may want to pay attention to the euro area manufacturing and services PMI. Scheduled for tomorrow, they may impact the euro pairs, especially if the services PMI data comes out lower than the forecast.