4 reasons why the Fed may be behind the curve
Financial market participants have priced in a hawkish outcome with only one day left until the Federal Reserve of the United States (Fed) releases its January policy decision. Here are four reasons why the Fed may be behind the curve that warrants its hawkishness.
Volatility picked up yesterday as the US stock market declined abruptly at the start of the trading week. At one point, Nasdaq 100 was down more than 4%, and the Dow Jones dropped over 1,000 points.
However, by the end of the US trading session, the main indices recovered all losses and some more, ending the day in positive territory. Of course, this is not normal market behavior, but it tells us how sensitive financial markets are to the upcoming Fed's decision.
The Federal Reserve is scheduled to release its monetary decision tomorrow, and the overall consensus is that it will not hike the rates. After all, it can't, as it signaled numerous times that it wouldn't do so as long as the quantitative easing program keeps running.
This delay in the Fed's reaction led to many market participants thinking that the Fed is behind the curve. How else to interpret the fact that inflation is running at four decades high and the Fed is still easing the monetary policy?
Here are four reasons to believe the Fed may be behind the curve:
Massive overshoot of price inflation
Substantial increase in wage inflation
Tight labor market
Additional supply chain disruptions caused by omicron
Strong overshoot of price inflation
Last December, inflation in the United States reached 7% YoY – close to a four decades high. Most of the rise was driven by supply bottlenecks triggered by the COVID-19 pandemic, which made the Fed think that higher inflation is transitory.
However, in the last quarter of 2021, the Fed dropped the word "transitory" when referring to inflation. Thus, it is behind the curve, and tightening is warranted.
Substantial increase in wage inflation
Wage inflation is on the rise, too, fueled by the high labor-market quits rate. As fewer workers remain active, companies raised wages to attract the labor force, thus triggering more upside in inflation.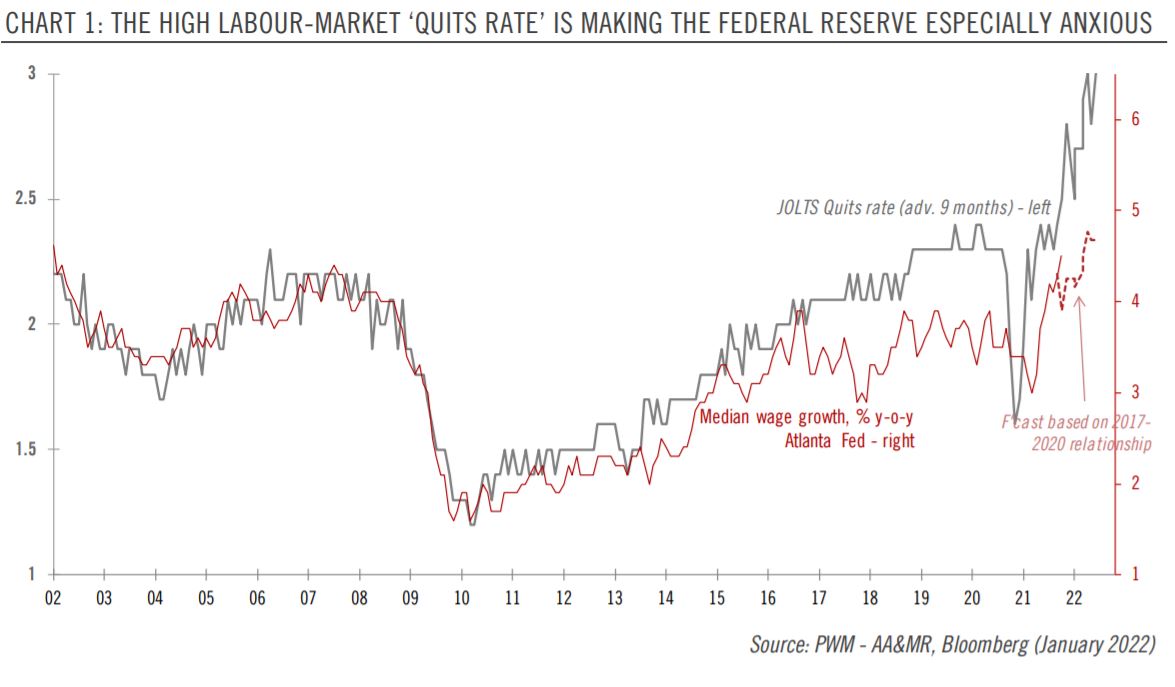 Tight labor market
Speaking of the labor market, it remains very tight. In December, the unemployment rate dropped close to the level where the Fed sees maximum employment fulfilled, thus another reason to believe that the central bank is behind the curve.
Additional supply chain disruptions due to the omicron variant
Another cause for concern is the omicron variant, which may trigger further upside in inflation. Additional supply chain disruptions are possible, thus forcing the Fed to move sooner rather than later.