4 market-moving stocks to release quarterly earnings next week
Next week, Apple, Tesla, Microsoft, and Visa will release their quarterly earnings. Can better-than-expected earnings reverse this week's market selloff?
The earnings season moves forward in the following week with four big names scheduled to report their last quarter financial performance: Apple, Tesla, Microsoft, and Visa.
Apple
Apple needs no introduction as its brand has gained global recognition. The company is scheduled to report its Q1 FY2022 results on January 27, at 02:00 PM PT.
Investors expect EPS of $1.24 on the quarter, and the annual revenue estimate for the fiscal period ending September 2022 is $381.20 billion. Apple's stock price is up +18.64% in the last twelve months but declined more than -8% YTD.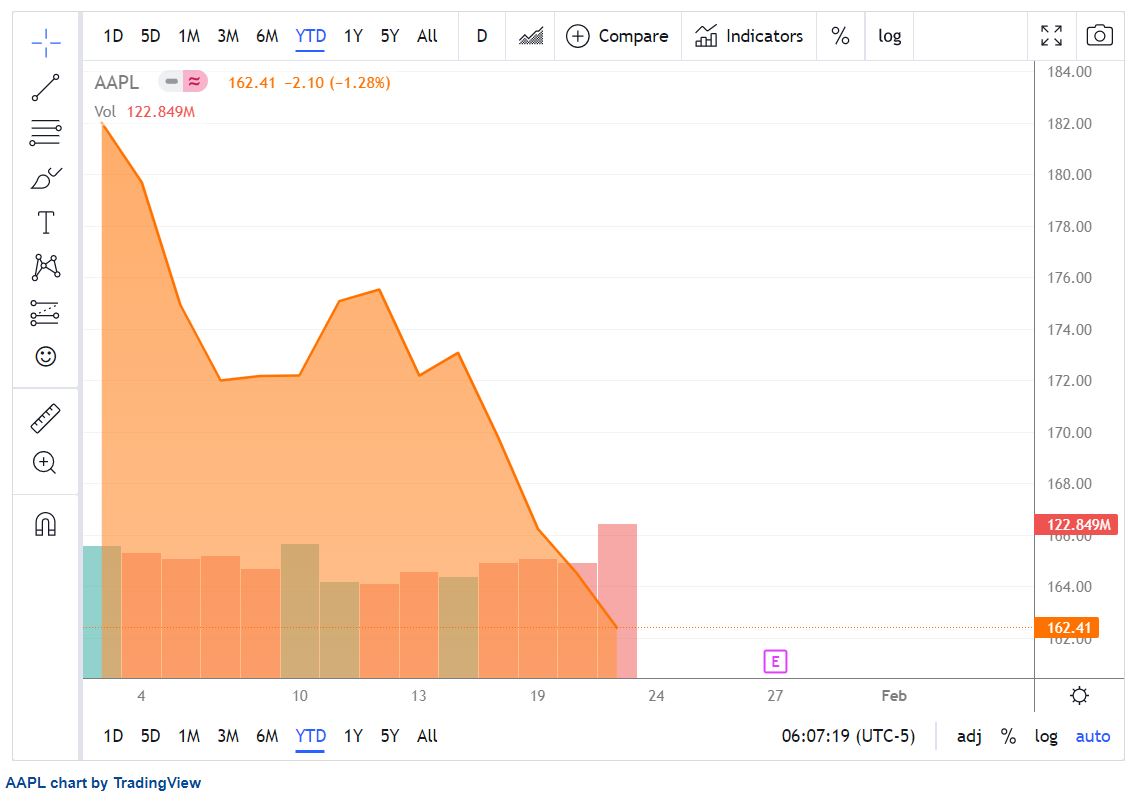 Tesla
One day ahead of Apple's earnings call, Tesla releases its last quarter performance too. Tesla is one of the most influential stocks as it attracted a lot of attention in the retail space and not only during the COVID-19 pandemic.
The stock price traded above $1,000 recently, and while above that level, Elon Musk, Tesla's CEO, sold shares worth billions. He made it public, arguing that he needs the cash to pay taxes due this year.
Yet, someone bought those shares, and yesterday Tesla's stock price dived more than -5% on the tech sector selloff. Investors expect EPS of $2.36 on the quarter, and forward guidance will play a key role in Tesla's stock price.
Microsoft
Microsoft is another big tech company reporting its quarterly earnings this week. More precisely, on January 25, during post-market hours, Microsoft will release its financial performance for the second quarter of its fiscal year 2022.
Investors expect EPS of $2.32, and the stock price is up +31.59% in the last twelve months but down more than -11% YTD. Four days ago, Microsoft announced the acquisition of Activision Blizzard in a move designed to accelerate growth in Microsoft's gaming business.
Visa
Last but not least, Visa presents its last quarter performance on January 27. Investors expect EPS of $1.70 for the first quarter of the fiscal year 2022, and the company has beaten the EPS estimates for the past seven consecutive quarters.
Visa operates with a gross profit margin of 96.97%, higher than the sector median by 95.62%. Moreover, it increased its annual dividend for the last 13 consecutive years.