3 technical reasons to buy the JPY in March
The Japanese yen's decline might be over as the USD/JPY chart shows three reversal patterns: a bearish RSI divergence, a triangle as a reversal pattern, and a rising wedge.
The USD/JPY was one currency pair that rallied during the COVID_19 pandemic. It kept advancing for more than a year until it found stiff resistance at the 116 area.
One reason to keep an eye on the Japanese yen is its safe-haven status. In times of uncertainty, it tends to appreciate, as Japanese investors repatriate funds kept overseas.
As such, the war in Ukraine provides a fundamental reason to own the Japanese yen in March. How about technical ones? Here are three: a bearish RSI divergence, a triangle as a reversal pattern, and a rising wedge.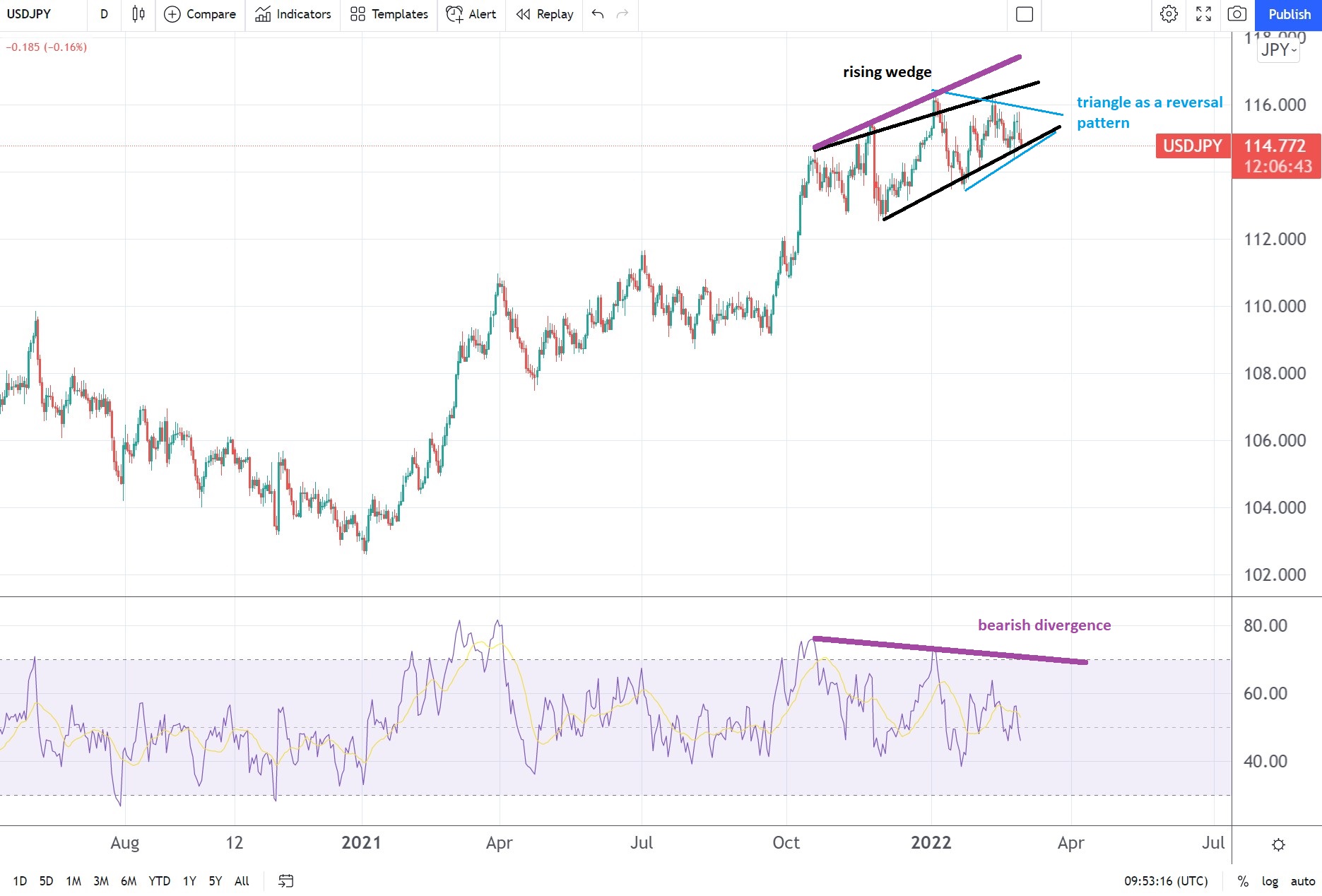 Bearish RSI divergence
RSI or the Relative Strength Index is one of the most popular oscillators used in technical analysis studies. When it reaches levels above 80, it shows an overbought market.
Moreover, if it doesn't make new higher highs, while the actual market does, the RSI shows a bearish divergence. In other words, staying long, or invested, is risky.
Triangle as a reversal pattern
Showed in blue on the chart above, a triangle formed right at the top. Coupled with the bearish RSI divergence, the triangle is likely to be a reversal one.
According to the Elliott Waves Theory, a triangle as a reversal pattern appears either at the end of complex corrections or at the end of a terminal impulsive wave. Both are bearish in this context.
Rising wedge
Finally, a rising wedge showed in black on the chart above, is another reason to worry USD/JPY bulls. Rising wedges are reversal patterns that appear at the top of bullish trends.
The focus now shifts to the lower edge of the pattern. A break and hold below might signal the end of the USD/JPY bullish trend that lasted more than one year.
To sum up, the war in Eastern Europe provides fundamental arguments to buy the yen. Coupled with the technical ones, USD/JPY bears have a compelling trade in March.