3 takeaways from the latest IMF World Economic Outlook report
The IMF World Economic Outlook report, released yesterday, revised down the global growth projections for 2022. What are the key takeaways of this report?
The World Economic Outlook report is one of the most important ones for the financial community. The International Monetary Fund releases the report at least twice a year; it serves as a benchmark for global economic growth and assesses the risks and challenges for the period ahead.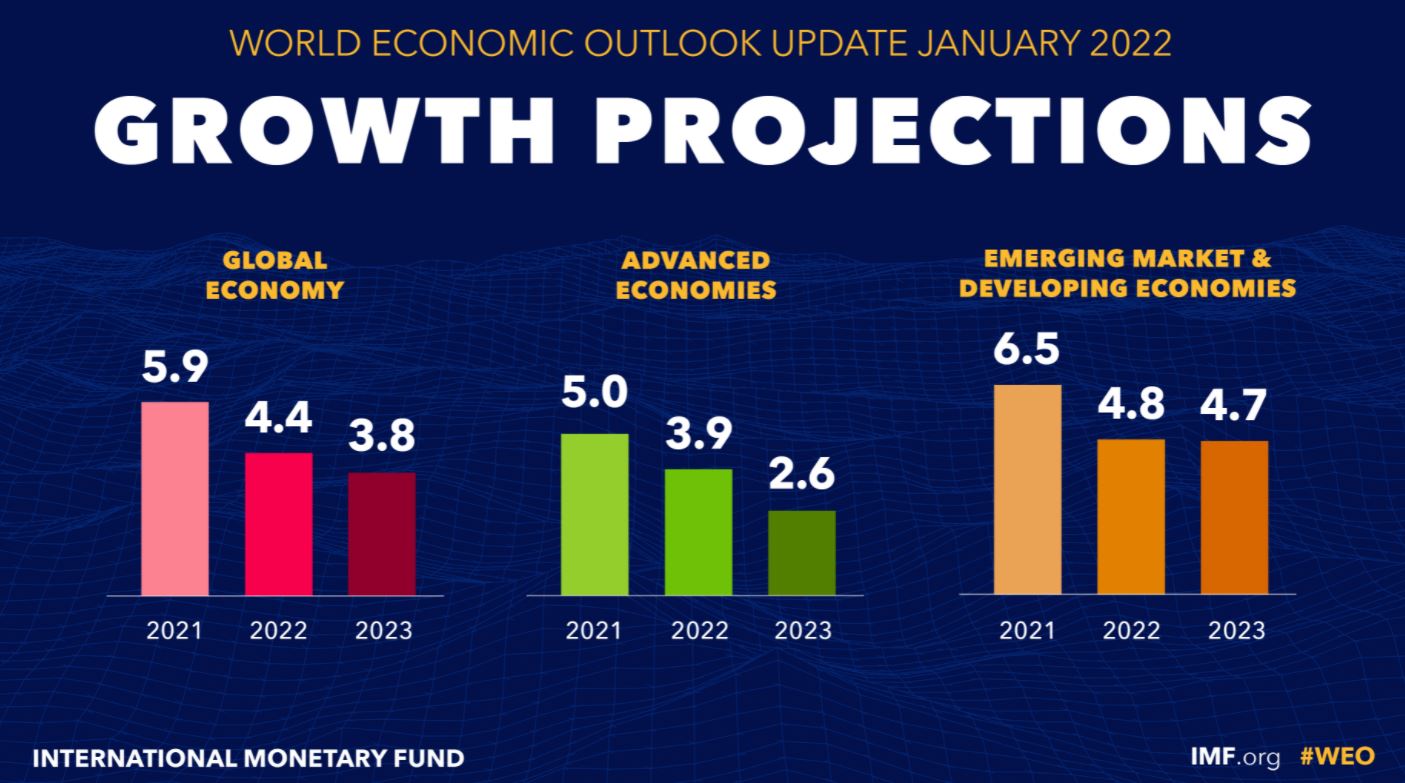 Global growth revised down for 2022
IMF downgraded the global growth projections for 2022 by 0.5% to 4.4% in 2022. Also, the global economy is expected to grow by 3.8% in 2023. All in all, good news, as the global economy recovers from the COVID-19 recession.
According to the IMF, Omicron, the new COVID-19 variant, and rising energy prices are two of the factors affecting global growth.
Elevated inflation to persist longer
One of the outcomes of the COVID-19 pandemic is higher inflation. The prices of goods and services rose throughout the world, affecting emerging, developing, frontier, and developed economies.
To exemplify, inflation in the largest economy in the world, the United States, has reached four-decade highs in December, coming out at 7% YoY. In Canada, inflation is at a three-decade high, while in Australia, inflation reached the highest level since 2004.
The big challenge moving forward, according to the IMF, is anchoring inflation expectations. If successful, then inflation could gradually come down in time.
Monetary conditions have tightened globally
Another interesting point made by the World Outlook Report refers to monetary conditions – they have tightened globally. It cites the two main central banks, the Federal Reserve and the European Central Bank, as they are on track to end the quantitative easing programs.
The Fed's asset purchases are forecast to end in March, and so are the ECB's asset purchases under the Pandemic Emergency Purchase Programme. But monetary conditions are poised to tighten even more.
Later today, the Fed announces its monetary policy decision, and it might surprise markets with a hawkish twist. The same is valid for the Bank of Canada, pressured to start a tightening cycle, one that might begin no later than today.
All in all, the IMF's report calls for caution. While the global economic recovery continues, risks are everywhere.