3 takeaways from the January NFP report that support a hawkish Fed
A strong labor market gives the Fed a green light to lift rates in March. The US economy added 467k new jobs in January, way more than the market expected.
Last Friday's NFP was the last piece of market-moving events in a turbulent week for traders. After the Bank of England and the European Central Bank delivered hawkish statements earlier in the week, the NFP report in the United States warranted the Fed's hawkish pivot too.
The Omicron wave was feared to affect the US jobs market, but it wasn't the case. Instead, nonfarm payrolls rose much more than the consensus – 467k vs. 115k.
Everything in Friday's report supports a hawkish fed, but here are the main takeaways:
Revisions to past data fuel the hot job market
Average hourly earnings reached 5.7% YoY
Omicron did not affect the labor market recovery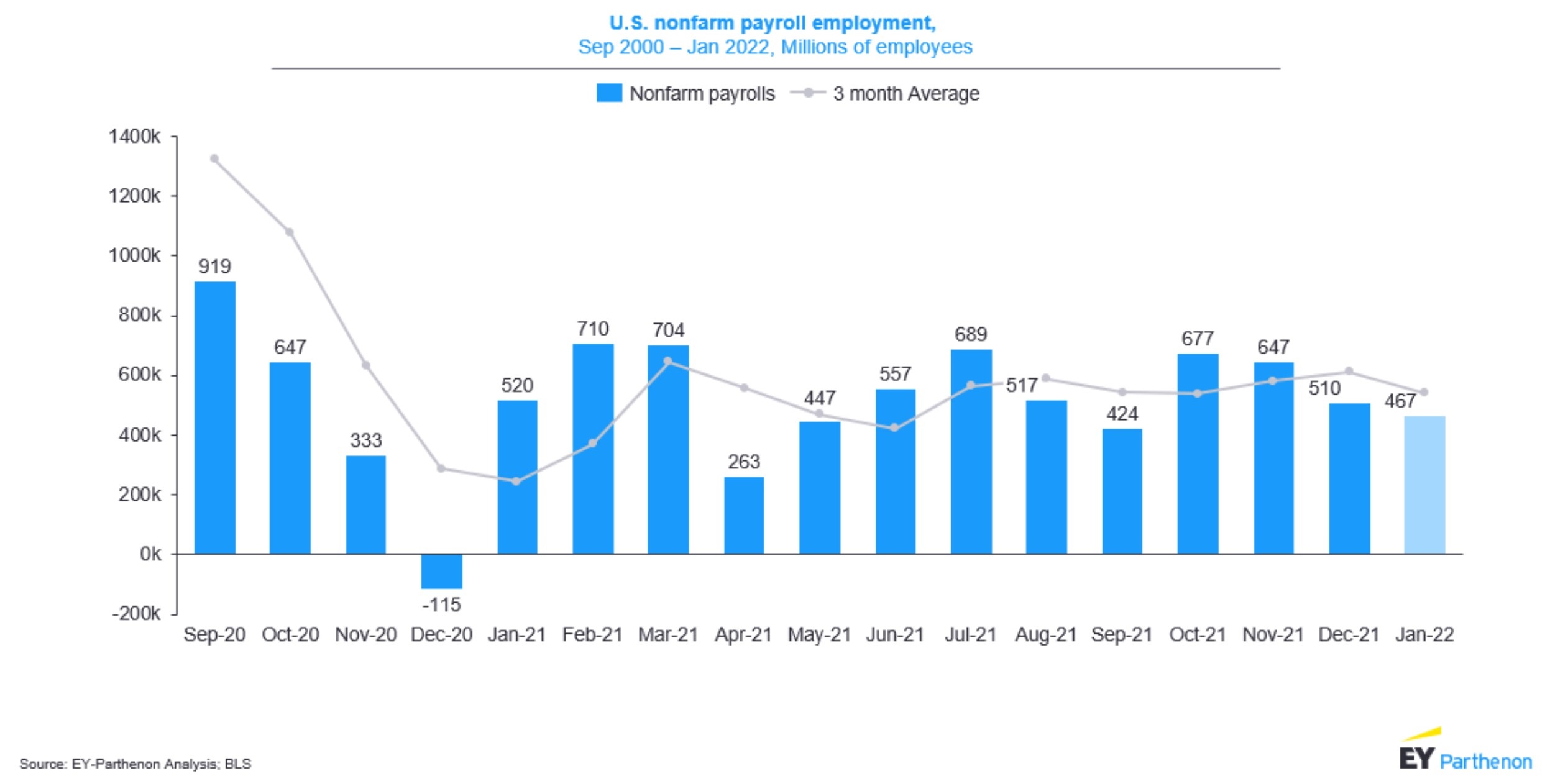 December number revised higher
The unemployment rate slipped to 4.0% from 3.9% previously, but revisions to past data fully compensated for that. For example, the December number was revised higher to 510k from 199k.
In other words, 300k new jobs were added by the economy in the last two months on top of the initial reports, giving the Fed more reasons to be hawkish.
Average hourly earnings' rise continues
Inflation runs at decades high in the United States, worrying the Fed. Average hourly earnings accelerated 0.7% on the month and reached 5.7% YoY. In other words, the risks to inflation are tilted to the upside.
Labor market unaffected by the Omicron variant
Much was said about the Omicron variant and its impact on the economy. Even the White House has warned that millions of workers were absent from work in January due to illness.
However, strong positive seasonal factors reinforced the January gains, and now the jobs shortfall relative to pre-COVID stands at 2.9 million. Simply put, the US economy recovered close to 90% of the jobs lost during the pandemic. Moreover, it did that in just two years.
All in all, Friday's NFP report was a strong one, showing a hot labor market and wage growth. Both are critical for the Fed when deciding the monetary policy, and Friday's data warrants the hawkish pivot seen lately.