3 takeaways after the Federal Reserve lifted the funds rate
Federal Reserve lifted the funds rate by 25bp yesterday, and yet the US dollar declined. So why did the greenback not trade higher after a hawkish Fed?
The Federal Reserve of the United States started a tightening cycle yesterday. It delivered a 25bp rate liftoff, as wildly expected by the market participants.
The main reason cited by the Fed for raising the federal funds rate was inflation. It runs much higher than the Fed's target, so a rate increase is only normal.
But the Fed turned out to be even more hawkish. For instance, the Russia-Ukraine war is seen as inflationary, pointing to more upside inflation and, hence, more rate hikes from the Fed.
Moreover, Bullard, one of the FOMC members, dissented. He wanted a 50bp rate hike. Therefore, the Fed was hawkish, but yet the US dollar declined, as reflected by the EUR/USD, AUD/USD, and GBP/USD, closing the day at their highs.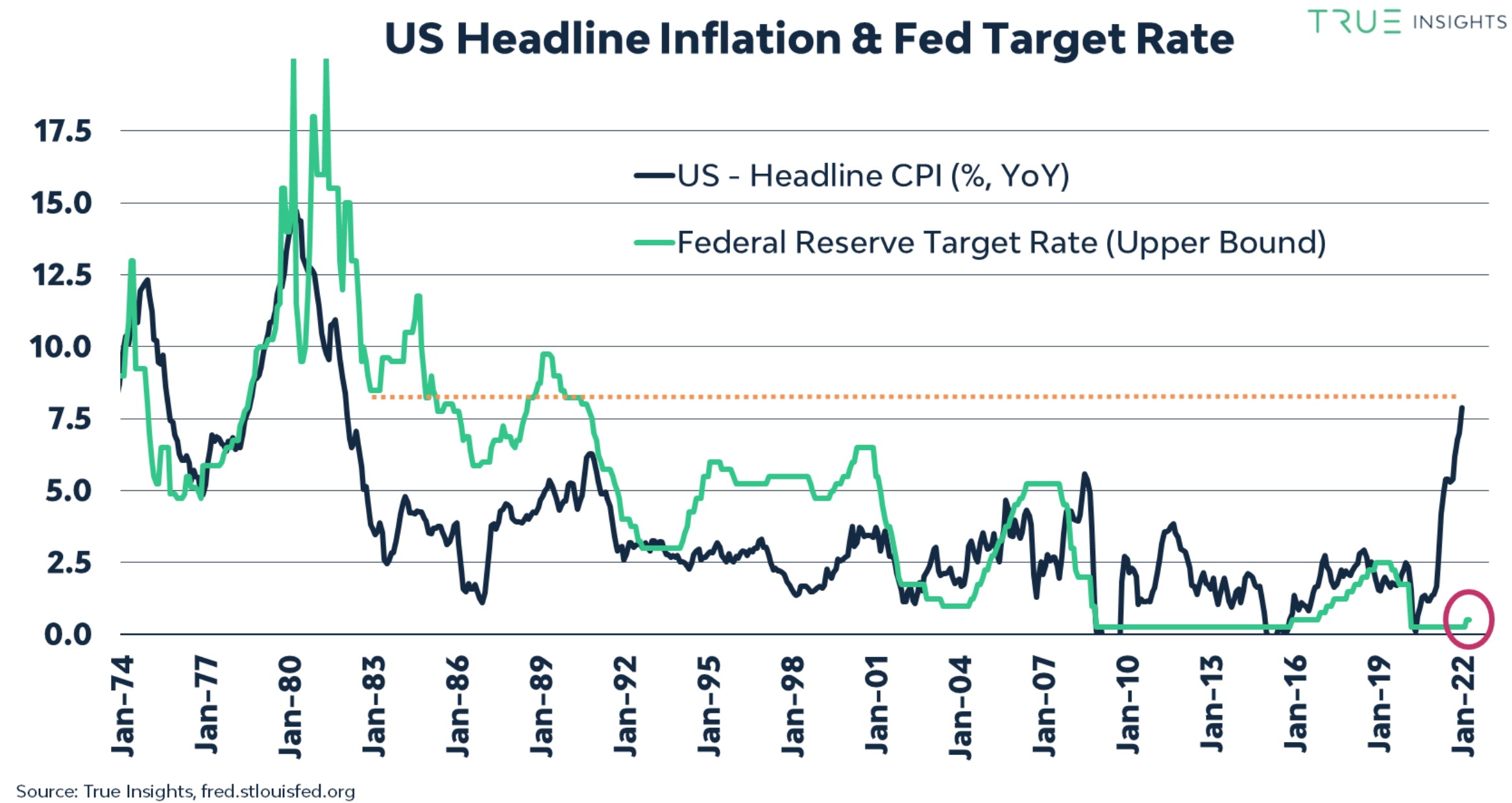 QE ended
One of the main takeaways from yesterday's statement and press conference is that the Quantitative Easing (QE) ended. The Fed no longer buys bonds to accommodate the economy. Instead, it lifted the rates in a U-turn move.
Moreover, Quantitative Tightening (QT) is about to start soon. Therefore, monetary conditions will tighten further.
Russia-Ukraine war is inflationary
Inflation in the US has reached 7.9% in February, and the Fed reacted with a 25bp. It couldn't hike the rates while running QE, but now that QE is officially over, it goes meeting by meeting in its decision to lift the rates.
One point made clear by Jerome Powell is that the Russia-Ukraine war is further contributing to disruptions in the global supply chains. Therefore, even higher inflation should be expected in short to medium term.
Bullard wanted a 50bp rate hike
Bullard was a disenter. Instead of a 25bp, he voted for a 50bp increase, thus delivering a hawkish twist to yesterday's rate hike.
Why a twist?
The reason comes from the Fed already explaining its move well in advance. Therefore, it was priced in. But Bullard dissenting represented a hawkish development.
Nevertheless, after gaining ground initially, the US dollar fell across the board. One way to explain it is that the rate hike is insignificant, considering the higher inflation rate and the expectations for it to rise more.