3 reasons why gold may push for a new all-time high soon
Gold price surges on the back of rising inflation. The technical picture shows a bullish breakout with a new attempt at all-time highs in the cards.
Gold price has puzzled investors during the COVID-19 pandemic. While inflation surged to levels not seen in decades, gold, a traditional hedge against inflation, failed to protect portfolios from the rise in the prices of goods and services.
Moreover, it delivered negative returns in 2021. However, the decline turned out to be just a contracting triangle that recently broke higher. Its measured move points to a new all-time high, and inflation keeps rising.
Inflation keeps soaring
In January, inflation rose to 7.5% in the United States – a four-decade high. But the United States is not the only country in the developed world where inflation surged.
For example, the Producers Price Index or PPI data was released today in Germany. As it turned out, inflation pressures accelerated in Germany, too, as the PP jumped by more t than 25% YoY. Most of the rise is due to energy prices, but even with that out of the picture, inflation is still up 12% YoY.
Because inflation on the producers' side is transmitted to consumers, higher CPI is expected in the months ahead.
Contracting triangle broke higher
Rising inflation may offer a strong incentive to buy gold, but so does the technical picture. As mentioned earlier, after reaching a new all-time high during the pandemic, the gold price consolidated in what appears to be a bullish contracting triangle.
Most recently, the price broke above the b-d trendline. Moreover, it retested it, providing a good opportunity to buy the yellow metal on dynamic support.
When the price breaks the b-d trendline, the triangle ends, and the price should not return beyond the e-wave's level. Hence, bulls have a case for a new all-time high while the price remains above $1,800.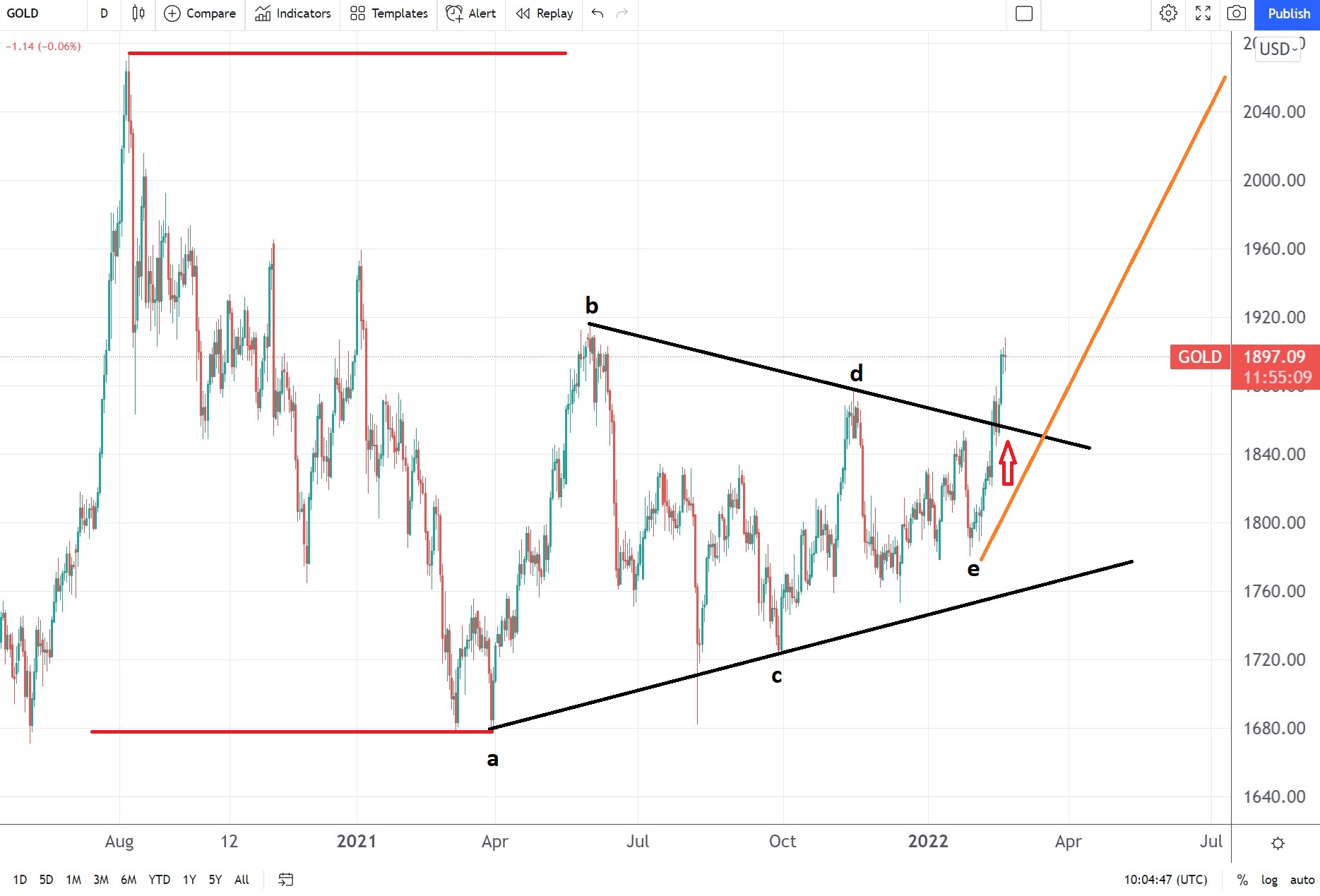 Measured move points to a new all-time high
A contracting triangle's measured move equals 75% of its longest segment, projected from the end of the triangular consolidation. It represents the minimum distance the price should travel, and it points to a new attempt at the all-time high made in the summer of 2020.