3 reasons to buy AUD/USD in April
AUD/USD looks bullish ahead of the Reserve Bank of Australia's decision this week. The technical picture suggests that more upside is likely.
A new trading month started, and traders prepare for the monthly interest rate decision from Australia. Tomorrow, the Reserve Bank of Australia (RBA) sets the monetary policy for the next month, and the Australian dollar looks bullish, especially against the US dollar.
Before looking at the technical setup, it is worth mentioning that the RBA meets monthly. It is one of the major central banks that sticks to the monthly meetings after most central banks shifted to six weeks between two meetings.
The market participants expect the RBA to keep the rates unchanged at 0.1%. However, the AUD/USD looks bullish at the start of the trading month, even though the interest rate differential favors the US dollar.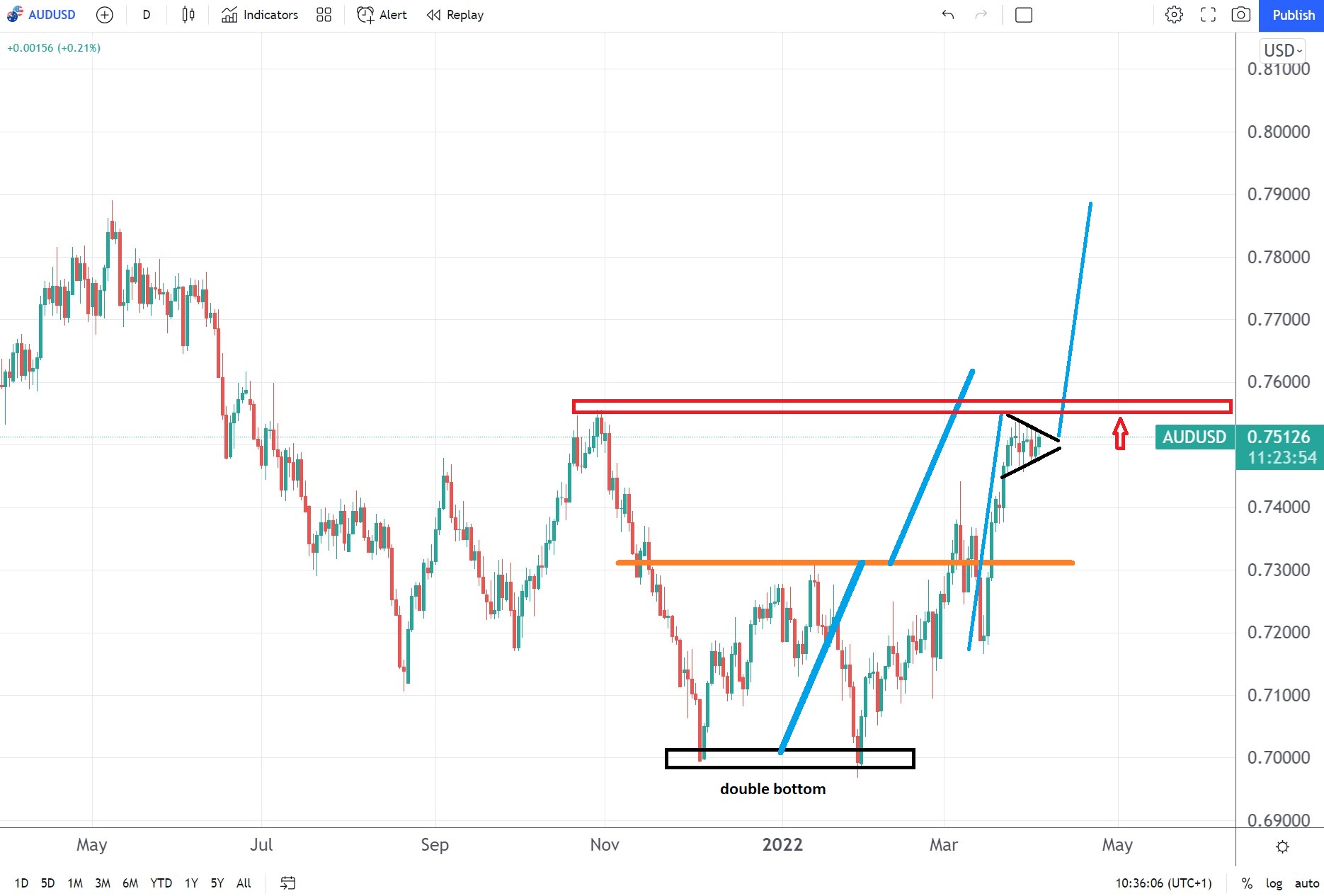 Double bottom points to a move above 0.76
In late 2021 and early 2022, the AUD/USD exchange rate bottomed. It formed a double bottom, a reversal pattern, and the measured move points to 0.76 and beyond.
A possible pennant suggests more upside
Another pattern that suggests more upside is in the store is a pennant. The triangular formation is a continuation pattern, only this time, the measured move points to 0.79 and beyond.
AUD/USD consolidates below major resistance
Finally, the pennant forms below major resistance. The 0.75-0.76 area offered strong resistance in the past, and the market builds energy to break higher.
A close above the resistance area is bullish also because it signals that the series of lower highs ended. As such, it is likely that more stops will be triggered, and the market should move fast from 0.76 to 0.77.
All these bullish technical reasons appear strange considering that the RBA's interest rate is 0.1% and that the Fed already hiked once. Moreover, the Fed signals a 50bp rate hike in May, which would make the interest rate gap even bigger.
Can the RBA surprise markets this week and deliver a rate hike? Unlikely.
However, the language used might suggest that the RBA plans to normalize the policy. Considering that inflation is much lower in Australia than in the United States, traders would likely continue favoring the Australian dollar against the American one.