Stock Update (Short Trigger), Mega Caps to Watch and 24 Hour Notice – June 13
On June 7 I posted an article entitled Buy or Sell the Stock Market Bounce?, but instead of giving a direct answer I instead provided a strategy. If a certain set of conditions developed I proposed it would be a good time to get in–short.
Those conditions have materialized, indicating this market is likely to continue down and I prefer the short side.
The recent trigger was simple, and matched exactly to the trigger I described in the article above. Of course just because the trade has been triggered does not mean the market must go down. I could fly up tomorrow, but throughout my trader career I have enjoyed the reliability of this simple signal as long as it is used in conjunction with the trend.
The trigger, which occurred on June 11, is marked on the chart.
Therefore, I believe there is likely more downside to come. If this trigger is valid the S&P 500 should move down below the recent low at 1266.74. A rise back above 1336 is somewhat bullish but does not necessarily indicate the index is going to test the April high.
You can also check out my latest article on Investopedia which looks at General Electric (GE), Exxon (XOM), AT&T (T) and Walmart (WMT):
Mega Caps – The Good and Ugly
Mega caps are stocks that have over $100 billion in market capitalization. They are generally well known and their performance plays a crucial role in investor confidence and in the performance of major indexes. As the market continues to churn within a correction over the last two months, there has been a stark contrast in the performance of mega cap stocks during that time. Two have been lagging – even when the market was rising earlier in the year – while two other mega caps have been stacking up impressive gains during this correction.
Continue reading on Investopedia: http://www.investopedia.com/stock-analysis/cotd/XOM20120613.aspx#ixzz1xiWBA4oN
Also, THIS IS IT!
Bill Poulos just announced that he's shutting down his Real Wealth Income Generator program in about 24 hours, TOMORROW, June 14th, at 11:59pm Eastern…
So you need to HURRY if you want to download the trade alert software and get in on Bill's no risk 60 day trial. There are multiple free educational videos too to watch if you haven't done so already.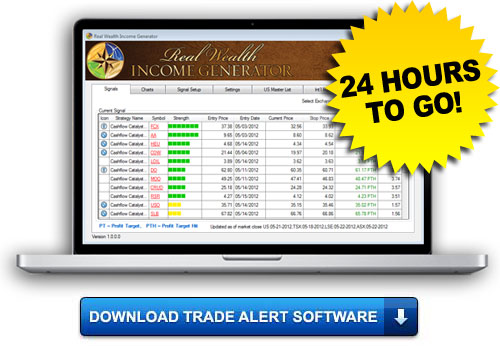 Cheers,
Cory Mitchell, CMT
p.s. Wait 'til you see the insane bonuses you get with this program. The first one is revealed in the presentation here, around the 19 minute mark…